Supreme Court 101: How it works and what's at stake now
Ray Sanchez, CNN | 1/31/2017, 4:03 p.m.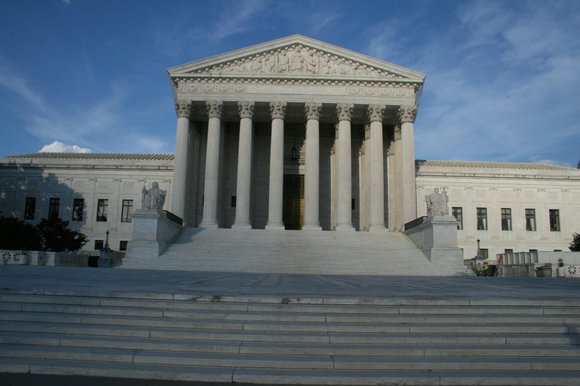 (CNN) -- The nation will be watching closely when President Donald Trump reveals his nominee for the Supreme Court Tuesday night.
The jurist's potential to impact the lives of Americans is incalculable.
Trump's nominee would replace conservative Justice Antonin Scalia, who died suddenly at a remote Texas hunting resort last February.
The vacancy in the nation's highest court was followed by the refusal by Republicans to consider Democratic President Barack Obama's nominee to fill Scalia's seat.
Here's why the Supreme Court matters:
Who checks the actions of the president?
If the controversies of Trump's nascent presidency are any indication, the nation's federal courts will be busy attempting to resolve future legal disputes.
"That will put the Supreme Court, and potentially this new jurist, at the fulcrum of Trump's efforts to change life in America," Joan Biskupic, CNN legal analyst and Supreme Court biographer, wrote Tuesday.
Case in point: Trump's order last Friday temporarily barring refugees and citizens from seven Muslim-majority countries from entering the country resulted in massive protests and a flurry of litigation.
The part of the executive order blocking entry to people from seven Muslim-majority countries -- even if their visas were valid -- drew the most criticism. Lower court judges temporarily suspended parts of the order.
The constitutionality of Trump's sweeping actions will likely be decided by the Supreme Court.
Does the ideological makeup of the court matter?
The nine-member court is deeply divided along ideological lines. Every vote matters.
The dissent of a lone justice can tip the balance on major issues involving civil rights and criminal law.
Scalia's successor will take the place of a rigid conservative on social issues such as abortion rights, affirmative action and gay marriage. Under Scalia, the court was one of the most conservative in modern times.
"Rarely has there been a moment in American history of such widespread national discord, internal court divisions, and the opportunity for a new tie-breaking justice," Biskupic wrote.
Trump has expressed his desire for a justice who would reverse Roe v. Wade, which made abortion legal nationwide. He has said he wants states to have the power to determine when a woman has the right to end a pregnancy.
What's the makeup of the current court?
Four Republican appointees on the bench have generally taken a conservative stance (Chief Justice John Roberts and Justices Anthony Kennedy, Clarence Thomas and Samuel Alito) and four Democratic appointees regularly have been more liberal (Justices Ruth Bader Ginsburg, Stephen Breyer, Sonia Sotomayor and Elena Kagan).
But Kennedy's centrist tendencies prevented conservatives from significantly rolling back abortion rights, or race-based policies intended to enhance student diversity at universities -- as allowed in 1978 by Regents of the University of California v. Bakke. Kennedy was also the crucial fifth vote to declare a constitutional right to same-sex marriage in 2015.
He remains on the bench, but he is 80 years old and has indicated to some close friends and associates an interest in retiring. If he were to step down, successive nominations by Trump could transform the court and the law in America.