Discovering Cuba
MEGAN PINCKNEY | 7/6/2017, 5:26 p.m.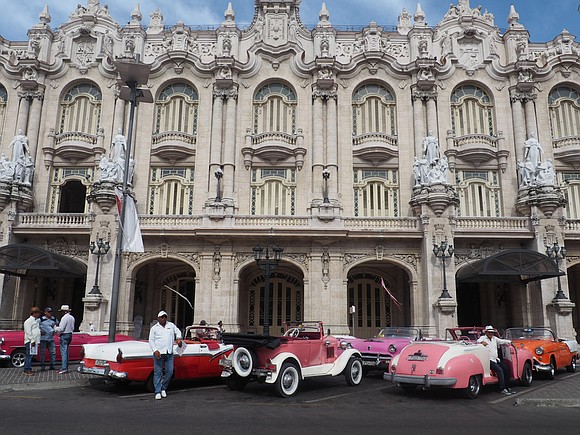 WHERE TO EAT
There are so many great places to eat in Cuba. The people there really take pride in their food and it shows through each of their meals. There are two types of restaurants in Cuba: government-owned restaurants and paladares (or family owned restaurants). My absolute favorite meal while in Cuba came from La Guarida, a paladares. The restaurant is located in a massive multifamily building with gorgeous floor-to-ceiling windows and a few staircases that would make any architecture-lover swoon. The food is so delicious and gives you the feeling of eating old family recipes. We ate here for lunch on our first day and it was the perfect place to begin our trip. It's no wonder celebrities such as Beyoncé and Jay-Z made it a point to stop here during their vacation. La Guarida is a must during your visit. Just make sure you make reservations way in advance.
Two other "restaurant musts" are Los Naranjos and El Cocinero. Both offer authentic Cuban experiences (although El Cocinero offers Cuban fusion cuisine), outdoor seating options and a super-friendly staff. Make sure to walk up the tiny, steep staircase to the rooftop after eating at El Cocinero for a great view, great music
and simply a great time.
WHAT TO DO
If you are planning to visit Cuba under the "support for the Cuban people" category, what you plan to do while there is very important. Luckily, several tour companies have already taken these requirements into account and offer tours that will satisfy them. We took a full day tour, The Havana Experience Tour, with Havana Tour Company ($119 per person). From 9 a.m. until approximately 5 p.m. We crisscrossed Havana with a local, English-speaking tour guide. We started at the National Theatre, exploring the ornate building that is home to the ballet and the opera. Then, we walked through picturesque Old Havana, stopping at points of interest and interacting with locals until we arrived to the oldest boxing gym in the country, Rafael Trejo. Boxing is a huge part of the nation's culture. While there we got to witness a few boxers (including one woman) train for an upcoming fight. We ate lunch at a paladares, took bicitaxis through the city's Chinatown, met with locals in quirky and artistic Hammel Alley, before taking an old-fashion convertible up to the Christ of Havana statue and El Morro, the fort that guarded the entrance to Havana. We ended the tour atop a rooftop, learning how to make the country's
favorite cocktail: the mojito.
I also recommend taking a day trip out of Havana to not only satisfy the requirements of "supporting the Cuban people," but also to experience another part of the culture. We took a day trip about three hours out of Havana to Viñales. There we took a tour of tobacco farm Finca Rancho Alegre and learned and watched how Cuban cigars are made.
Megan Pinckney (@shadesofpinck) is a retired beauty queen turned lifestyle blogger who loves exploring the world and writing about it.