Does baseball need a new era of swag?
Jaime C. Harris | 7/6/2017, 10:12 a.m.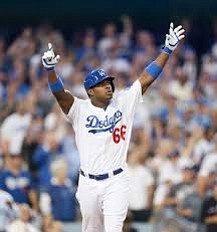 During the golden age of the Negro Leagues, baseball was much more than a game. It was theater, comedy, improvisational entertainment and full of swag. Players' showmanship and personality were as much of the allure of the game as their exceptional talent. The stands were a festive atmosphere of home-cooked soul food, passionate banter and friendly wagers.
The only semblance of environments featuring teams such as the New York Lincoln Giants and Baltimore Black Sox, which July 5, 1930, virtually 87 years ago to this day, became the first Negro League teams to play at Yankee Stadium, is the World Baseball Classic, also known as the WBC.
Anyone who watched WBC games this past winter witnessed fans supporting teams representing Puerto Rico, the Dominican Republic, Cuba, the United States and other participating countries display unbridled enthusiasm and national pride, transforming the stands into music festivals by the banging of drums, blowing of horns and an accompaniment of other rhythmic sounds, a glaring contrast to the relatively staid Major League Baseball crowds.
Many baseball traditionalists deride the WBC, as this reporter did at its inception in 2006. However, in some aspects, it reflects a shifting attitude of many of today's young stars, those who have been raised in a culture of social media, progressive societal norms and a resistance to archaic baseball etiquette. Players such as the Washington Nationals' magnetic outfielder Bryce Harper, the Toronto Blue Jays' electric pitcher Marcus Strohman and the Texas Rangers' colorful centerfielder Carlos Gomez bring much needed flair to baseball.
For a sport struggling to maintain and grow a young fan base, the aforementioned trio, along with some others, is appealing to millennials, also known as Generation Y. According to Nielsen's Year in Sports Media report published last year, MLB's viewing population is aging. Fifty percent are 55 and over. A mere 26 percent are between the ages of 33 and 54, and only 24 percent are under 33. Furthermore, 70 percent are male and 83 percent are white. The numbers reveal that baseball's fan base, despite being solidly in the millions, is dramatically narrow and concentrated.
Comparatively, in the current age of proliferating digital platforms and a plethora of alternative sources of entertainment, for example electronic sports, or eSports as it generally called, commonly described as multiplayer video game competitions, the demographic composition of its ardent followers is far younger and much wider from a gender perspective than baseball's. Sixty-five percent of eSports fans are between the ages of 18 and 34 and women comprise 38 percent of the rapidly growing sport's devotees.
So does baseball need a new era of swag to attract a more diverse following? What's wrong with Los Angeles Dodgers right fielder Yasiel Puig taking a slow, self-congratulatory trot around the bases after hitting a home run or the Blue Jays' Joey Bautista flipping his bat as he admiringly stares at his towering blast?
To traditionalists, it's an affront to unwritten codes, unofficial rules that are seemingly outdated. To millennials, it's a reason to tune in and embrace a sport they have by and large ignored or abandoned.