Larkin Grimm releases 'Chasing an Illusion'
JORDANNAH ELIZABETH | 7/6/2017, 3:35 p.m.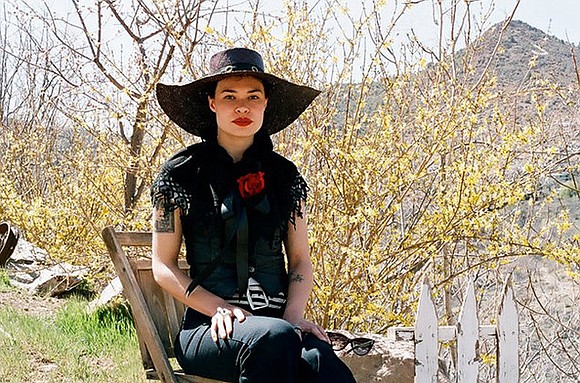 The New York-based avant-folk musician, Larkin Grimm, has released a collection of free jazz, experimental-inspired of songs with her new album, "Chasing an Illusion." Specifically, the album is dedicated to jazz musicians Ornette Coleman and Alice Coltrane, according to the liner notes on her Bandcamp digital
music profile:
"The love generated by this record is dedicated to Ornette Coleman, who taught me to play without fear, and to The Divine Yogini Turiyasangitananda, AKA Alice Coltrane, who taught me to heal the deepest pain of loss through music. May the light of truth overcome all darkness."
Although inspiration seeps throughout the record, Grimm laces the album with her own unique folk music aesthetic with strings, her bellowing bass drums and her unmistakable quivering alto vocals. "Chasing an Illusion" is raw and vulnerable and delves into realms of doubt and betrayal with the fourth track of the album, "I Don't Believe You." The third song, "Fear Transforms into Love (Journey in Turiyasangitananda)" artistically mimics Alice Coltrane's chiming harp playing style.
The lyrics of the album come off like she is having a conversation, speaking to one or several people about how and why her songs came about just for them. "Chasing an Illusion" may be all about her relationship with an illusion, whether that is a person or a specific vision of reality can be left to the listener's imagination. Nonetheless, the sixth song, "A Perfect World" does paint an overt musical picture of Grimm's desire to live "happy and free."
The album is very rootsy and honest and reveals her compositional chops as it pulses and drives with strong bass lines: Evenly placed string accompaniment meld with off-kilter experimental music touches such as echoing layered vocals. Loosely composed drumless improvised songs, such as the final track, an angry and final declaration on which Grimm sings, "My heart is empty/My soul is empty too" uses the melody of her voice as the leading force of the track.
"Chasing an Illusion" is an intense tale of pain and betrayal, but for the most part it is beautifully tailored, making clear that Grimm is a seasoned musician who has been releasing music sincc she released her debut album, "Harpoon," in 2005. This album is worth the listen as it takes you on a journey of a woman looking for meaning and relationship with her reality, choices and personal anger.