Bronx holds ceremony for new children's museum
Lena Johnson | 7/13/2017, 9:51 a.m.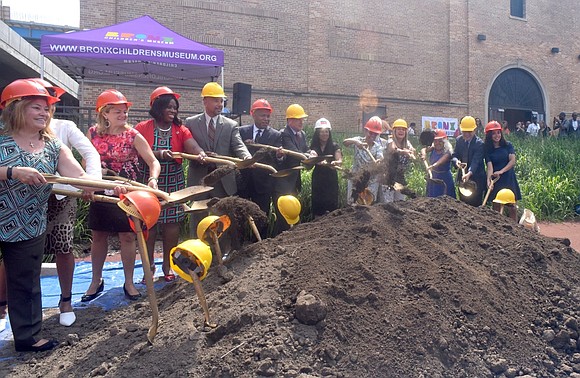 Wednesday, July 12, 2017, a groundbreaking ceremony was held in celebration of the Bronx Children's Museum that's being built on Exterior Street in Mill Pond Park. Hosted by the NYC Department of Design and Construction and the NYC Department of Parks and Recreation, the museum will be located just outside Yankee Stadium, only a 10-minute walk away from the B, D and No. 4, 5, 2 and 3 trains.
The project for the new museum has been in progress for more than a decade, and locals couldn't be more excited for its addition to their community. Famous Bronx native Sonia Manzano was present at the groundbreaking ceremony and expressed her love for the Bronx. Manzano is most famous for previously playing "Maria" on Sesame Street for four decades before announcing her retirement from the show in June of this year.
Manzano recalled living in the South Bronx as a kid and is extremely excited to have the museum added to the community as an educational, engaging and fun part of the lives of children in the Bronx. She has headlined the progress of the museum since the beginning and helped the museum raise the $9.6 million needed for the design and construction.
In attendance at the ceremony were Bronx Borough President Ruben Diaz Jr., NYS Assemblywoman Latoya Joyner and NYS Assemblyman Jeffrey Dinowitz, who spoke a few words on the museum's behalf. NYC Council Member Vanessa Gibson and council Speaker Melissa Mark-Viverito also made a statement. After the speeches was a musical performance by ¡Retumba!, a multiethnic all-female music and dance ensemble. Most of their performance consists of music and dance styles originating from Africa, Europe and Caribbean countries such as Puerto Rico, Cuba and the Dominican Republic. According to their website, ¡Retumba! "emphasizes the particular strengths and sensitivities of diverse women working together in celebration, demonstrating the similarities and links of our shared cultures."
The museum is said to be "building a dream" and will serve nearly 75,000 children annually, including children who might not normally visit or who could not normally afford a trip to the museum. Construction is scheduled to be completed at the end of 2017, and the museum's tentative opening date is late 2018.