Martha Rivera Chavis, wife of civil rights leader Dr. Benjamin Chavis, dies at 53
Herb Boyd | 7/13/2017, 11:03 a.m.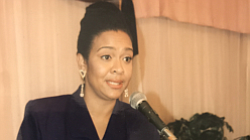 While we welcome the arrival of Black Press Month, we mourn the passing of Martha Rivera Chavis, the wife and first lady of the NNPA, of which her husband, Dr. Benjamin Chavis Jr., is the president and CEO.
Mrs. Chavis died Thursday, July 6, at her home in Montclair, N.J. She was 53.
It was during Dr. Chavis' brief leadership at the NAACP (1993-94) that his wife gained national recognition, mainly for her resourceful insight in helping negotiate a "Fair Share" deal between the NAACP and Denny's Restaurant. In fact, she was instrumental in convincing her husband to take the job at the NAACP.
Though born in the Dominican Republic, Mrs. Chavis acquired a vast understanding of international affairs far beyond her homeland. When she met Dr. Chavis in 1989, she was working as a translator of French-to-Portuguese for Angola's United Nations ambassador.
Dr. Chavis, upon being introduced to her, was immediately smitten and even more attracted when he learned of her intelligence and her knowledge of history, particularly as it pertained to Africa and the Diaspora.
"I was impressed that this young sister [she was 16 years younger than he] from the Dominican Republic had an African conscience," Dr. Chavis related. "A lot of times when you from a place, you know where you and you know your roots, but Martha knew what was going on in the contemporary world."
Not only was she globally sophisticated, she spoke French, Portuguese, Italian, Spanish and, of course, English. She was a graduate of the Paris-Sorbonne University, one of the most prestigious academies in the world.
The couple met at a time when Africa, and especially Angola, was in the throes of a devastating civil war, and after their marriage they adopted 10 Angolan children, several of them with missing limbs. The couple had a total of eight children, five together and three from Dr. Chavis' previous marriage.
Mrs. Chavis was unwavering by her husband's side, taking on key assignments as he worked with Minister Louis Farrakhan in the organization of the Million Man March in 1995. In the succeeding Million Women March, she was among the leaders of the event, facilitating the media and promotional goals.
Her dedication to civil and human rights struggles is being celebrated by prominent leaders across the nation, and these tributes to her activism and courage are sure to resound as her family and friends prepare for her final rites.
Information for the memorial celebration of life for Mrs. Martha Rivera Chavis:
Date: Tuesday, July 11, 2017
Time: 5 p.m. to 8 p.m.
Location: Martin's Home for Service Inc. Chapel, 48 Elm St., Montclair, N.J.
Funeral Director: Richelle R. Williams
Telephone: 973-746-2158
Email:
martins@martinshfs.com
Website:
www.martinshfs.com
The funeral and burial services will be held at the Funeraria del Pueblo Avendia Independencia in San Pedro de Macrois, Dominican Republic July 12 and July 13.
Dates:
Wednesday, July 12, 2017,
and Thursday, July 13, 2017
Location: Funeraria del Pueblo Avendia Independencia, San Pedro de Macrois, Dominican Republic
Telephone: 809-526-6819
In lieu of flowers, the family requests that donations be sent to the Martha Rivera Chavis Memorial Fund at https://nnpamartharchavismemorialfund.mydagsite.com/.