Mclean, Belgrave, Jazzmobile, Saxton and Dr. Lonnie
Ron Scott | 7/13/2017, 4:05 p.m.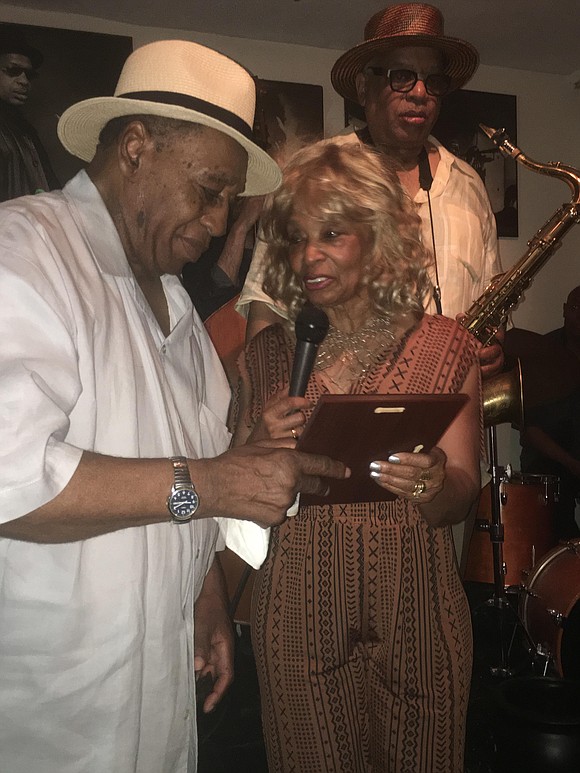 The following evening the vocalist with a flair, Lezlie Harrison, performs at Marcus Garvey Park (18 Mt. Morris Park and West 124th Street). Harrison offers an eclectic repertoire that swings from soulful Stevie Wonder to Marvin Gaye's "What's Going On," or the jazz standard "Straight No Chaser."
Her reconstructive versions take listeners down another road. She connects with the audience via the sassy humor that propelled Pearl Bailey to prominence. The show is 7 p.m. to 8:15 p.m.
The saxophonist Antonio Hart performs at Grant's Tomb (122nd Street and Riverside Drive) July 19. As a protégé of the great Jimmy Heath, his musicianship is outstanding.
The tenor and soprano saxophonist Antoine Roney makes an appearance at Grant's Tomb July 26 (7 p.m.-8:30 p.m.). He is a graduate of the Hartt School of Music of the University of Hartford, and he studied under the legendary Jackie McLean.
His schooling with McLean left a fast stream of hard bop rhythms running through his veins, and as a native of Philadelphia (John Coltrane's and Sonny Fortune's hometown) it inspired an exploratory spirit.
As a mentor of young musicians, for this performance Roney will be accompanied by a younger than age 20 ensemble. One of these young musicians is his son Kojo, who in my opinion is already jamming like a young Elvin Jones on the drums. If you want to see where jazz is headed, this gig is the one to make.
For a complete listing, visit the website jazzmobile.org.
The tenor saxophonist and composer Bill Saxton, a proud native of Harlem, recently celebrated his 71st birthday at his jazz club Bill's Place (148 W. 133rd St.).
The club is a New York City historical landmark. During prohibition in 1927, there were at least 20 clubs or speakeasies on West 133rd Street (between Lenox and Seventh avenues). Most were after-hours joints where people went after the Cotton Club and other spots in Harlem that at the time were segregated (no Black folks allowed).
However, on 133rd known as "Swing Street" or Jungle Street," depending on where you stood, musicians, socialites and hip Harlemites all squeezed into the same joints. Bill's Place was
originally a speakeasy.

The stride piano style was in full force, with its house musician Willie "The Lion" Smith and a young Billie Holiday making a reputation by mesmerizing newcomers.  It later became Tillie's Chicken Shack, serving the best chicken and waffles in the city.
For Saxton's birthday bash, the past spirits were surely present. Smith and Holiday were never known to miss a good party. Those musicians carrying the tradition and offering birthdays wishes were trombonist Dick Griffin, tenor saxophonist Gene Gee, bassist Chris Haney, pianist Adam Schwartz, saxophonist Ray Blue, drummer David F. Gibson, and master pianist and singer Johnny O'Neal.

Dr. Theda Palmer Saxton presented Earl Spain with an award for his longtime commitment to St. Nick's Pub when he was the manager. Bill Saxton gave a special shoutout to Berta Alloway for her many years of dedication and ongoing commitment to promoting jazz in Harlem.