Touro College awards top honor to Payal Aggarwal for service, leadership, research and dedication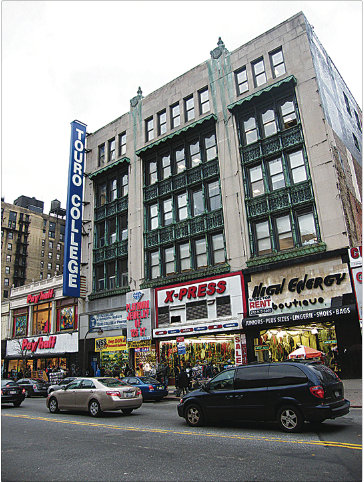 When Payal Aggarwal was just 6 years old, she visited her grandfather in India in the hospital. He had cancer, and she told him the experience of their visits made her want to become a doctor when she grew up. "He said nothing would make him happier," Aggarwal recalled in a recent interview.
She began volunteering at age 10 for the American Cancer Society. Fast forward to last month when her dream became reality. She donned a cap and gown at the Apollo Theater in Harlem and joined the graduating class of Touro College of Osteopathic Medicine. Last Saturday she began her residency at Brooklyn Hospital in pediatrics.
"I hope to pursue pediatric oncology, so I was thrilled to match into pediatrics!" she said. "I can't wait to see what the future has in store."
Pediatric oncology entered the picture for Aggarwal after she volunteered at a camp for kids diagnosed with cancer, Camp Happy Days, an experience that she wrote about in The DO magazine.
The camp would be one on a long list of challenging volunteer experiences she would take on during her journey to earning her doctor of osteopathic medicine degree.
Student DO of the Year
Aggarwal's contributions were so numerous and her achievements so exceptional that TouroCOM awarded her its highest honor at commencement—Student DO of the Year—for her outstanding service to the school, leadership, research and dedication to the profession. 
The award capped off years of volunteer activities throughout her undergraduate years at New York University and more recently as a student at the medical school, where she worked as a teaching assistant and tutor; assumed leadership positions for student government groups, state and national osteopathic medical associations and global health organizations; published and presented her work at conferences; and became deeply involved in national service projects such as Camp Happy Days to help severely ill children.
At commencement she was chosen to address her class. She shared with her classmates her recent experience of her father's admission to the hospital—an event she said taught her more than the hours of lectures at medical school.
"The only thing that helped during that stressful time were the doctors who had a positive attitude, who made it a priority to listen to my dad and who took the time to answer all the questions my family and I had," she told her classmates. "Going to the hospital is so routine for us that we often forget it is never normal for patients or their families to be there. Understand that after today, you will be the answer to someone's prayers and be part of the most intimate situations and decisions families will make."
Rags to riches
Aggarwal traces her hard work and service orientation to her upbringing in Queens and summers spent with her parents and brother in India. "My parents taught me a lot about hard work in America," she said. "Besides having a strong work ethic, they also taught my brother and me about integrity and service. Every summer we would go to temples to distribute food, clothing and blankets to people who couldn't afford them. These were my first experiences with service and my parents always taught me that if you are in a position to help others, you should."