Tulsa officer acquitted in shooting is resigning from police force
Jason Hanna and Justin Gamble, CNN | 7/17/2017, 12:05 p.m.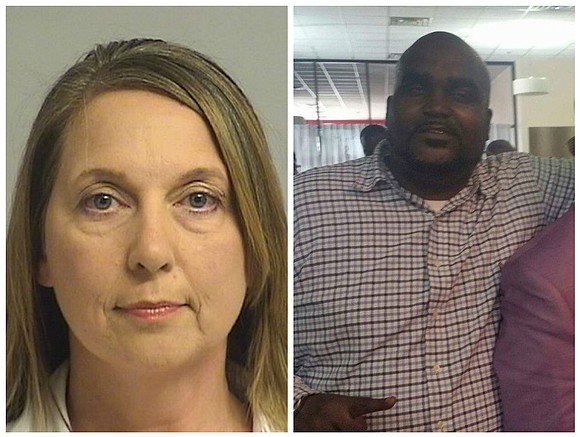 (CNN) -- An Oklahoma police officer who was acquitted in last year's shooting death of an unarmed black man will resign from the Tulsa Police Department next month, she announced Friday.
Officer Betty Shelby was acquitted in May of manslaughter in the death of Terence Crutcher. His family then filed a lawsuit against her and the city last month, alleging in part that she shot him unnecessarily.
Shelby returned to work after her acquittal -- to a desk role, instead of her previous patrol responsibilities.
"Since being reinstated, I have found that sitting behind a desk, isolated from all my fellow officers and the citizens of Tulsa, is just not for me," Shelby wrote in a statement released by a local police union.
"As I have stated before, the incident with Terence Crutcher was a tragedy for everyone involved, and I am sorry he lost his life," she wrote. "I pray for healing for his family, I will continue to pray for the unity of our community, the safety of our citizens and our police officers."
Shelby will resign on August 3, her attorney, Shannon McMurray, said.
In her letter, Shelby thanked those who supported her, including "fellow officers for the moral support they gave me the last 10 months."
The shooting
Crutcher's death on September 16, 2016, was one of a number of police shootings of unarmed black men across the United States in recent years that spurred debate about use of force.
The shooting happened after Crutcher's SUV was found stalled in the middle of a street. A witness called 911 and said a man was running away from the vehicle, warning it was going to blow up.
Shelby, who is white, testified she arrived and approached the vehicle and cleared it, not seeing anyone inside.
As she turned back to her patrol car, she saw Crutcher walking toward her, she testified. He alternated between putting his hands in his pockets and putting them in the air, Shelby said.
Crutcher did not comply with her commands to "show me your hands," she testified. She also said he was sweating heavily and smelled of PCP chemicals.
Crutcher ignored orders from Shelby and another officer on the scene, Tyler Turnbough, according to Shelby's testimony. She testified that Crutcher put his hands on the SUV and moved to reach into the vehicle.
Her police training taught her that "if a suspect reaches their hands inside of a car, don't let them pull them out," she testified.
At that point, Shelby fired her weapon and Turnbough fired his Taser, she testified.
Crutcher was found to be unarmed.
The trial
In May, nine white and three black jurors acquitted Shelby.
The jury foreman, in a letter released to the news media, wrote that some jurors "could never get comfortable" with saying Shelby was blameless in the death because it appeared she could have used a Taser before Crutcher reached into the vehicle.
"However, there was no evidence presented that her extensive training allowed such an option," the letter said. "The jury could not, beyond a reasonable doubt, conclude that she did anything outside of her duties and training as a police officer in that situation."