Brooklyn hosts annual Hip-Hop Festival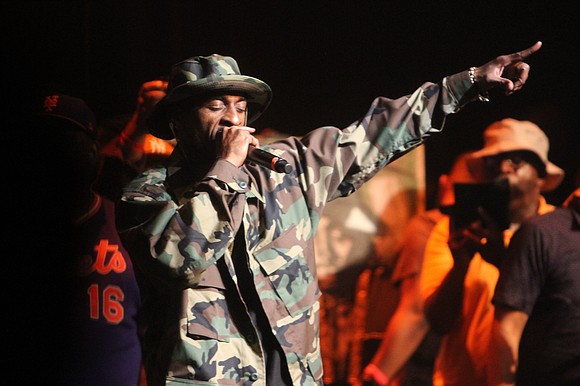 Since it was established in 2005, the Brooklyn Hip-Hop Festival has put forth the best balance of celebrating and preserving hip-hop's legacy through culture-based educational events, exhibitions, movie screenings and the climactic block party. This year's festival kicked off Monday, July 10, at the Brooklyn Historical Society, with their Told It First Hand series, a Q&A/discussion with the soldiers of the hip-hop culture, both past and present. Featured this year was one of the top three greatest ever emcees: Rakim Allah. Aside from the sold-out interview session, Rakim was the top-biller of a stellar group of headliners that also included The Lox and DMX.

Usually, two high-profile events such as those would have sufficed in reminding some and introducing others to the legend of Rakim, especially because he keeps public appearances to a minimum. That all changed, however, with an appearance on the "Ebro in the Morning" show the morning of June 23. Rakim, along with his former teammate Eric B, sent out a shockwave announcement. "7-7-17 is 30 years for the 'Paid in Full' album," Eric B revealed. "We gonna be celebrating it live at the Apollo Theater. Eric B, Rakim and Friends! It's gonna be a celebration of hip-hop and we want you all to come out."
It took all of two seconds to let that set in. Eric B and Rakim reuniting to perform in its entirety one of the greatest albums in the annals of hip-hop was enough to divert all attention away from the scheduled events in Brooklyn to 253 W. 125th, three days prior. With all due respect, it's for good reason. As an album, "Paid in Full," wasn't just an introduction to an artist. It changed a genre and set a standard. In one album, he lyrically combined the substance of Melle Mel, the acrobatics of Kool Moe Dee, the wisdom and confidence of the Five-Percent Nation and the menace of the streets. With the complex structure of the rhymes, the formula was to Rakim rather simple.
Early in his career Rakim was quoted as saying, "When I'm writing, I'm putting down my life. I don't believe in writer's block, so when it gets to the point where I'm slow with the ink, I just put down the pen, go back out in the world and live."
Fast forward three decades, and a retrospective Rakim said to the Hot 97 audience, "As cocky as the rhymes sounded, I never thought they would have an impact like this. It's a blessing to not only be a part of the game and this legendary status, but to be here 30 years later and have a show that everyone can come down and enjoy themselves, I never expected that."
Capacity filled and electric as an Apollo audience should be, the one thing that could mar the night was if the energy onstage didn't reciprocate. Not a chance. Opening the show with "Check Out My Melody" was appropriate as the stage resembled a lyric from the song:
I take 7 MC's put 'em in a line
And add 7 more brothas who think they can rhyme
Well, it'll take 7 more before I go for mine
Now that's 21 MC's ate up at the same time.
They all weren't emcees. Keith Washington and Al B. sure ain't rappers. Neither are Rosie Perez and DJs Kool Herc, Kid Capri and Michael Bivins. As for rappers EPMD, Ice-T, Flava Flav, Special Ed, Main Source, Joeski Love, Ma$e, T La Rock, Peter Gunz, Fat Joe, Maino, Sweet Tee, Roxanne Shante, Mr. Cheeks, Lovebug Starski, B Fats and Rich Boy, they began to look like food. Rakim was the star among stars—no joke. The duo didn't mention if there's another musical collaboration down the pike, but the next musical project in development will be a concert film and documentary, thanks to a collaboration between Russell Simmons' consumer media brand All Def Digital, Sessions X, an on-demand video streaming app, and the creative media company Talsi Media.
Over and out. Holla next week. Til then, enjoy the nightlife.