Whole Foods Market Harlem opens
KYSHA HARRIS AmNewsFOOD Editor, @SCHOPgirl | 7/20/2017, midnight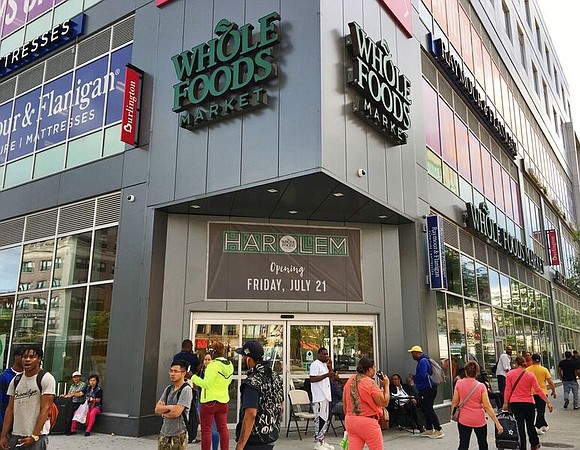 Whole Foods Market will opened the doors of its 12th NYC location in Harlem Friday. The 40,000-square-foot store, located at 100 W. 125th St. in the heart of Harlem, celebrated the grand opening day beginning with their traditional bread breaking ceremony. Doors officially opened for business at 9 a.m. and featured local vendor demonstrations, giveaways and more.
"We are thrilled to serve the historic and vibrant Harlem community," said Damon Young, store team leader for Whole Foods Market Harlem. "Our many Harlem community partners have helped us create a wonderful store that enables us to provide local jobs, support community artisans and serve Harlem residents with the highest quality natural and organic foods."
Whole Foods Market Harlem's prepared foods will feature a combination of innovative, new chef-driven concepts and classic favorites. There will be a couple of the firsts for Whole Foods Market, such as a kebab grill featuring a Mediterranean-inspired menu, a Cuban sandwich venue with both classic and unique new takes on the sandwich and a Cuban coffee stand, with window service on West 125th Street, for food and coffee on the go!
The grocery selection at Whole Foods Market will emphasize healthy eating, wallet-friendly options and Harlem-born products ranging from classic favorites to trend-setting new products from approximately 20 Harlem brands such as Sylvia's spices, Egunsi Foods' West African soups and Vy Higginsen's Mama's One Sauce. All of these items have met Whole Foods Market's rigorous quality standards.