Councilman Ruben Wills found guilty in corruption trial
ALIZA CHASAN, CNN | 7/21/2017, 12:06 p.m.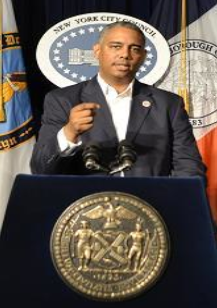 A jury found a city councilman from Queens guilty of five of the six counts against him in his corruption trial Thursday.
Ruben Wills (D-Jamaica) faces up to seven years behind bars for the theft of about $30,000 in public campaign funds and state grant money, officials said. He will be automatically expelled from the New York City Council.
"Ruben Wills' crimes were a shameful violation of the public trust," said Attorney General Schneiderman. "Now, after a conviction by a jury of his peers, Ruben Wills will face the consequences."