Cool R&B summers in NYC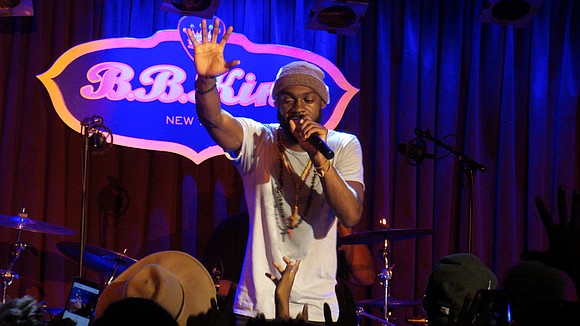 What happened to B in R&B? News and events of the day suggest that a severe case of the blues could justifiably shroud us collectively. Yet the "chase a check" mantra is what apparently speaks to and resonates with us. Ain't mad at that. That's something we should carry on the base level. But we shouldn't be bombarded with such sentiments solely. The scales need to be tipped and a balance struck so we can have access to what speaks to us souly. That's what R&B music has done for us traditionally. Could we get back to that? Should we get back to that?
B.B. King, in consecutive weeks (July 15 and July 22), hosted two recent headline acts that have willingly picked up the mantle. For Mali Music, knowing from which you've come is sensed. "In a nutshell, I am the continuation of everything that we have loved in other artist," he was quoted recently on theGrio LIVE, while promoting his second major label album, "The Transition of Mali." "Since the greats like Whitney Houston, Luther Vandross, James Brown and Michael Jackson are no longer here, many listeners are looking for 'new bread.'"
Appreciation of the predecessors can easily lead to imitation, and while performing Mali is content to forge his own path. His audience comprised Day 1 believers who feel that a win for artists such as Mali is a win for the future of R&B. Mali concurred by saying of his music, "It will hold a lot of artists accountable, and cause the real artists that have it to rise up and become relevant because the door is open now. We hear the light. We know what it sounds like and clearly, that's what people want."
From the CrossRhodes, we get a feeling of preservation. The art of R&B music should be respected on their watch. Cultural appreciation is cool. Cultural appropriation is not.
"We done gave away Rhythm & Blues word to Justin.
I know some crooks in suits and ties, I don't trust em."
These words taken from their single "Footprints on the Moon" suggest that issues affecting us will be addressed on the soon-to-be-released album of the same name. Consisting of Wes Felton, actor and master of ceremonies, and Raheem Devaughn, the Washington, D.C duo intends to create way more than an album.
Their credo and logo are intertwined in the musical creativity and explained as follows:
"The intersection of our vision, dreams, beliefs and reality. We are taking back the lineage of what they have stolen. We also acknowledge our immediate ancestors who used the Rhodes piano to create soul music.
"Our logo captures the intersection of four elements of life for what it means to be human, men, Black, fathers, lovers, believers in God and artists.
"1. The gun reflects the fact that we see our art and community at the CrossRhodes of both the living and dying by the gun, which is reflected in both the growing BLM movement about violence against our community and the continued work we have to do about the violence we inflict on each other in our community.
"2. The heart reflects the love, which is at the root of our music and the movement we are building as men who love, feel, care and struggle.
"3. The fist reflects the beauty and power of our commitment to our struggle. We understand that we come from a long tradition of elder and ancestor artists. A legacy that we have an obligation to continue, transform and pass on to the next generation.
"4. The microphone reflects our art, culture and music, which when crossed with love and consciousness is what can use to teach, heal and rebuild our community."
Songs such as "Praying Prayer," "I Woke Up" and "Malcolm Revenge" were received by the crowd as confirmation that their efforts will be appreciated.
Over and out. Holla in week. Til then, enjoy the nightlife.