Anti-violence groups working toward 'Summer of Peace'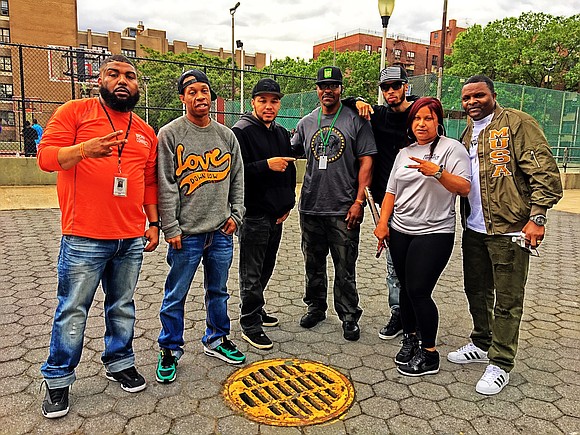 The Summer of Peace collective stated, "This annual concentrated effort seeks to heighten attention to gun violence and gun safety not only for victims or families of victims who have endured such pain, but also to ensure we are seeking proactive measures to rid our societies of gun activity."
Mitchell spoke directly to the targeted youth, who may be "in the life." Talking to the Amsterdam News, the Brooklyn-based activist said, "My message to the community of misguided individuals who we work diligently and hard to reach before they pull the triggers:
"I would first and foremost like to publicly thank you brothers and sisters for your cooperation and participation with our 16 citywide Crisis Management System, Cure Violence organizations. Without your partnership and mutual respect, we would not, as a city, be currently enjoying record lows in reported gun related violent shootings and homicides. 
"As a community, we are listening and learning more and more from you every single day. Our goal is to reach you and provide you with the necessary resources that you have been begging and deserving of for years and years."
The Chairman of Community Board 5 added, "As we continue to advocate and provide services tailored for you, we are also appealing to you all for a fair exchange. As we say in the streets, 'fair exchange is not a robbery.' For our relentless dedication to you, we are respectfully asking for a Summer of Peace in exchange. Let's make the summer of 2017 the safest and most peaceful summer of all. Work alongside of us to help make it safe and peaceful for every community in this city. For every neighborhood that is planning for activities and events for all members of our communities to enjoy. This summer lets work together to create 'Summer of Peace Zones' around playgrounds, ball courts, parks and streets where our children, elders and innocent members of our families work, play and live.
Most importantly, always remember that not every community in this society has given up on you. There is more love and support for all of you, than there is hate."
 The youth can always reach out to him, Mitchell said, by phone, social media, website or coming to any one of the several planned events.
Having perfected the art of trusted delegation, Mitchell has dozens of like-minded colleagues who work in the offices, schools, community centers and on the streets.
As his work has diversified to prevent fights from becoming physical or fatal, he and his associates have emphasized the need to prevent the initial hostile contact between law enforcement and filter-free youthful exuberance.
"Another major portion of the Summer of Peace series is our #10,000 Free voter registration and education campaign," Mitchell said. "It is our goal that we will register 10,000 people this summer alongside the numerous activities and events we will be hosting. We are primarily focusing on empowering the disenfranchised members of our community, like people who are returning citizens from prison, college and the military. It is our collective citywide goal to have at least 10,000 or more people registered and freed to vote in the upcoming citywide elections by the end of this summer. Coupled with this effort will be a massive public education campaign on local politics hosted by the political education organization that I am a proud partner in call Hip-Hop Organized, or H2O. We will couple the elements of hip-hop with voter education drives as well as in our political education classes. So there will be DJs playing music, MCs and poets, hip-hop and breakdancing all summer long in public spaces and places." 
Mitchell concluded, "People interested in helping us free and empower 10,000 unregistered qualified potential voters this summer can call 855-H2O-2017 or email h2organized2017@gmail.com"h2organized2017@gmail.com
Friday, June 2, advocates of Gun Violence Awareness Day, and Gun Violence Awareness Month will hold an 11 a.m. news conference at City Hall in Manhattan.