Violet T. Lewis, educational trailblazer and founder of Lewis College of Business
Herb Boyd | 6/1/2017, 5:41 p.m.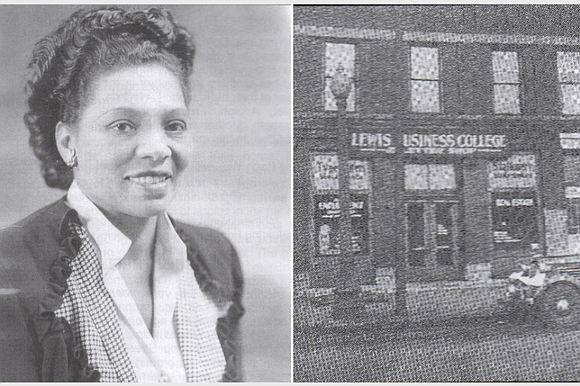 Whenever there's discussion of historically Black colleges and universities, the mind drifts to the southern states. But there was one HBCU up north—Lewis College of Business. During a recent visit to Detroit, I learned too late to attend the funeral services for Dr. Marjorie L. Harris, who for 30 years was the president of the college. Harris died May 16, and her funeral was held 10 days later at Mayflower Congregational United Church of Christ.
If you are ever in Detroit, trek on over to John R. and Ferry Street and read the marker on the corner indicating the first location of the college. An even more important marker of the college's legacy is Harris' commitment—her lifelong dedication to an institution that flourished for 80 years before it closed in 2015.
The college was founded in 1928 by Dr. Violet Temple Lewis in Indianapolis, and she embarked on a mission to provide students with the same secretarial skills she had acquired while attending Wilberforce University in Ohio. She secured a $50 loan from a local bank, received rental space from her employer, purchased some used furniture with the loan, and eureka!—a college was born.
In 1939, Lewis was made aware of a similar need for secretarial skills in Detroit, and after a visitation and a serious study of the possibilities there, she opened a branch that soon outgrew the original one in Indiana.
While Lewis was conceiving the school, she also had to manage a household with two daughters after divorcing her husband. Phyllis was three years older than Marjorie, but they stayed united throughout their lives, so much so that they wrote a book about their mother, "On Her Own Terms." "My mother was an honorable woman," Harris told Bankole Thompson, editor of the Michigan Chronicle. "Someone needs to tell her story."
Lewis' story began in 1897 in Lima, Ohio, where she was born. After graduation from Wilberforce in 1917, she worked at Selma University for a year before a brief tenure as a bookkeeper for the Madame CJ Walker Company. From 1920 to 1927 she was employed at the Indianapolis Recorder. It was during these stints of employment that she noticed the lack of Black women as secretaries. That absence and the impact of the Great Depression motivated her to establish her own school in her home. Gradually, as cited above, she secured the means to move to a larger location and to serve more students.
In the beginning tuition at the school was $2.50 per week, and 20-25 students enrolled. Along with her teaching, she continued to hold down a full-time job. Always extremely creative, Lewis started her own radio program in 1932 to boost enrollment at the school. Her program "The Negro Melody Hour" made her the first Black radio announcer in Indiana. The success of the show increased her student enrollment and eventually became so popular that she branched out to other cities, including Detroit.
Wisely, Lewis began this venture in concert with key business leaders in the city. The Rev. William Peck of Bethel AME Church and head of the Booker T. Washington Business Association played a key role in getting her started in Detroit. She was ably assisted by the Housewives League, founded by Peck's wife, Fannie. Members of the Church and the League conducted door-to-door campaigns for the school, insuring a substantial enrollment at the college.