Violet T. Lewis, educational trailblazer and founder of Lewis College of Business
Herb Boyd | 6/1/2017, 5:41 p.m.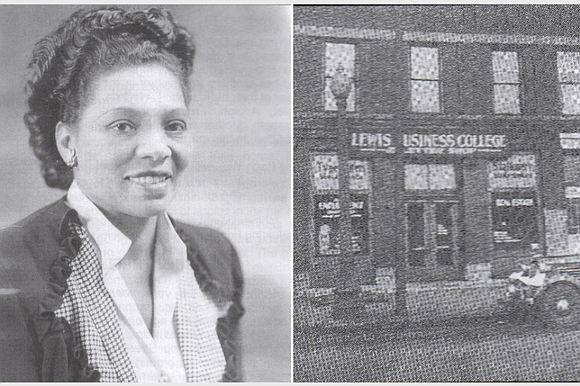 In their book, the sisters recount how this collaboration worked. "Their specific goal and purpose was to help promote Black businesses. The officers of the Housewives League would meet with Black business, learn about their products, inspect the quality of products and services," the sisters wrote. "These women would work in the neighborhood, knock on doors, and ask the community to support a particular Black business in their immediate community…and the Housewives League would try to close down a business if it was not reputable. They would knock on doors, pass out flyers and encourage the African-American community to boycott ill-reputable businesses."
With the growing success in Detroit, Lewis closed the college in Indiana, thus giving her more time to concentrate on developing the curriculum and organizing the fundraising drives. In focusing on a variety of secretarial and bookkeeping skills, the college was a perfect conduit to job opportunities at the automobile companies in the city. For many years the college was a steady and reliable pipeline from school to jobs, and by 2003 more than 40,000 students had matriculated at the college.
When their mother died in 1968, the sisters took over the school, with Marjorie assuming the presidency, determined to carry on her mother's pioneering work in establishing business schools for Black women. Marjorie extended her reach beyond the corridors of the college, becoming an influential civic leader and board member of a sundry of organizations and institutions.
"The college helped knock down the doors of racism in the hiring practices of governmental and corporate entities in the Detroit metropolitan area and changed the ethnic makeup of white collar workers," recalled Lyndia Grant, Marjorie's close friend.

Seeking further expansion, the college relocated in 1976 to the city's northwest side, and in a consolidation move, campuses in Cleveland and Detroit were combined to the College of Business. Subsequently it became an accredited junior college. In 1987, it was designated an HBCU. Mirroring the city's failing economy, the school experienced a precipitous decline in enrollment. The school lost its accreditation in 2007, which was a harbinger of doom. In 2013, the school was put up for sale and closed completely two years later.
It may no longer be of service, but during nearly a century of operation, Violet and her daughters did much to improve the employment opportunities of thousands of students, giving them the secretarial skills so vastly needed in the fast moving world of technology.