Alvin Ailey Lincoln Center summer season lights up the night with fireworks
Zita Allen | 6/8/2017, 4:53 p.m.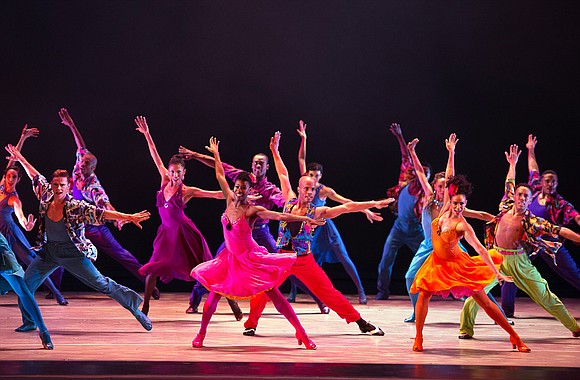 Robert Battle, artistic director of the Alvin Ailey American Dance Theater, says there are a number of reasons folks should be excited about the company's upcoming Lincoln Center summer season (June 14-18).
The AAADT dancers promise to light up the night in a variety of works presented in programs under three thematic umbrellas. Musical Inspirations features dances celebrating jazz legends—Battle's "Ella," Billy Wilson's salute to Duke Ellington's elegance, "Winter in Lisbon" and the company premiere of Battle's "Mass," set to a score by John Mackey and performed by six percussionists onstage. Global Voices spotlights Mauro Bigonzetti's compelling "Deep," set to the soulful sounds of Ibeyi and Johan Inger's "Walking Mad," is a delightfully whimsical take on Maurice Ravel's "Boléro." Bold Visions features Ailey dancer Hope Boykin's "r-Evolution, Dream," inspired by the speeches and sermons of Dr. Martin Luther King Jr., and MacArthur "Genius" Kyle Abraham's "Untitled America," a moving depiction of the impact of mass incarceration on African-American families. And, of course, what would an AAADT season be without Ailey's enduring masterpiece
"Revelations?"
In addition, other special events and activities are designed to satisfy the dance lover in all of us. There are classes on Lincoln Center's plaza and free dance and fitness classes for new students each day at the Ailey Extension. The 2 p.m. Family Matinee Saturday, June 17, will be followed by a Q&A session with Ailey dancers. The season ends with Father's Day performances at 3 p.m. and 7:30 p.m. Sunday, June 18. But that's not all AAADT fans have to look forward to.
In addition to a company of some of the most versatile dancers around, there is the thrilling return of Ailey dancer Clifton Brown. In the past, if audience's "oohs" and "aahs" weren't testimony enough to Brown's virtuosity, there were the critics' rhapsodic descriptions of "his etched lines, plush jumps and crystal-clear technique … and powerful presence onstage." Also, there are the many awards, including the prestigious Bessie Award, bestowed for a professional career that began with Ailey in 1999 after he graduated from the Ailey/Fordham B.F.A. Program in
Dance. Now he's back.
Recently, a rehearsal of the lyrical duet, "After the Rain," with Sarah Daley under the watchful coaching of Jamar Roberts offered a glimpse of the thoughtful approach and mindful attention to detail that makes him so special. In a brief interview, Brown talked about what it feels like to return to Ailey after having left in 2011.
"This was my first job as a teenager," said Brown, who once served as choreographic assistant to then-Artistic Director Judith Jamison. Although he considered dancing with the AAADT a rewarding experience, in 2011, he said he wanted an opportunity "to experience something different."
"I was curious," he explained. "For instance, what was it like to spend your time performing the works of only one choreographer and seeing what kind of depth you can go to with their work? I love the variety of a repertory company like Ailey, where you soak up as much as you can from each choreographer, then move on. But I just wanted to see what it was like to do something different."