Cosby accuser: 'I did not have the courage … to tell my family'
ERIC LEVENSON AND ELIOTT C. MCLAUGHLIN, CNN | 6/8/2017, midnight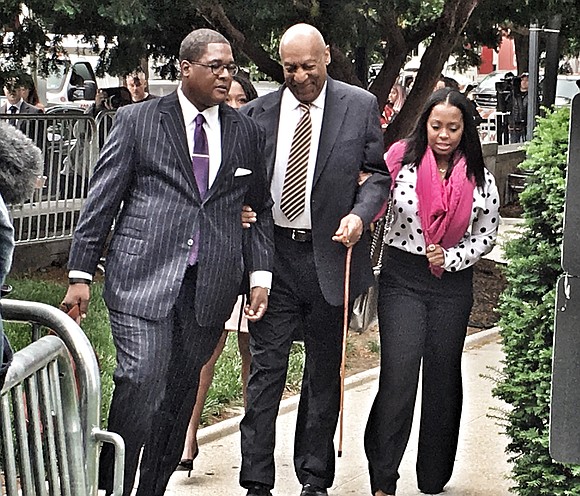 NORRISTOWN, PA. (CNN)—Bill Cosby's defense team said Wednesday that accuser Andrea Constand had been alone with the comedian on numerous occasions before she accused him of a January 2004 assault, insinuating that the meet-ups were romantic in nature.
But Constand said she had rebuffed Cosby's "suggestive" passes, once when he put his hand on her thigh and another time when he put his finger on her pants and tried to unzip them.
"Mr. Cosby never disclosed to me that he was interested in a romantic interaction with me," she said during her seven hours of testimony, spanning two days.
Constand, a former employee at Temple University, has accused Cosby of drugging and assaulting her during a visit to his home 13 years ago. Temple is Cosby's alma mater, and he was a powerful trustee there at the time.
Earlier, the defense team pointed out that Constand told police she'd never been alone with Cosby before the alleged assault and was never in contact with him afterward. Constand has said neither of those assertions was correct.
"I was really nervous and wasn't able to recall every particular moment that I had seen Mr. Cosby in order of dates," she said, explaining the inconsistencies.
In response to phone records indicating she called Cosby 53 times after the alleged assault, Constand said most of the calls were to update Cosby on the status of the women's basketball team in the postseason tournament, and most of the calls went unanswered. She stopped calling after she left her job at Temple in March 2004, she said.
In August of that year, Constand testified, she asked Cosby's representatives for tickets for her and her family to see his show in Toronto. She did not see Cosby before or after the show, she said, but she gave Cosby's aides a gift from her brother. She has previously testified that she did not immediately share her allegations with police or her family.
"It was a very big burden on me, but one that I did not have the courage at the time to tell my family," she said.
Defense attorney Brian McMonagle said during opening statements that Constand had a romantic encounter with Cosby at his Foxwoods Resort Casino hotel room in Connecticut before the alleged assault.
Constand testified Wednesday that wasn't the case. Where McMonagle alleged Constand lay in bed with him, she contended she sat on the bed next to him. He fell asleep and she left the room, she testified.
"They're your friends"
In testimony Tuesday, Constand said Cosby had befriended her and taken an interest in her career. At his home one evening in 2004, he pressed her to take three blue pills, which he said were herbal and would help her relax, she said.
"Put them down. They're your friends. They'll take the edge off," she recalled Cosby telling her. "I said, 'I trust you.' I took the pills, and I swallowed the pills down."
Shortly after, she told him she had become "frozen" and incapacitated, she testified. Cosby then laid her on the couch and assaulted her sexually, she alleged.