James Comey hoped leak would lead to special counsel on Russia
Stephen Collinson, CNN | 6/8/2017, 12:02 p.m.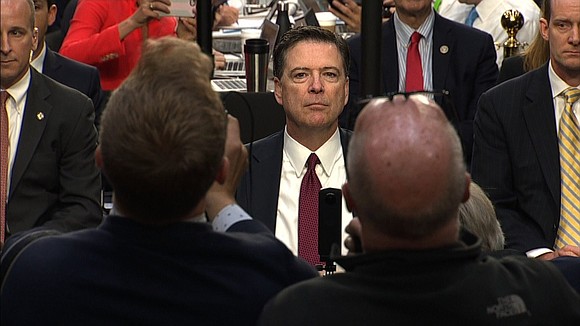 (CNN) -- Former FBI director James Comey testified Thursday that he orchestrated the leak of his accounts of conversations with President Donald Trump because he thought it might lead to the appointment of a special prosecutor to lead the Russia investigation.
In one of the most revealing moments of a a blockbuster Senate hearing, Comey said he had asked a friend at Columbia University to leak the content of one of his memos.
He said that it dawned on him that there could be corroboration of a memo that he wrote after the President tweeted that he better hope there were no White House tapes of their conversations.
"My judgment was that I needed to get that out into the public square," he said. He added he took the step "because I thought that might prompt the appointment of a special counsel."
Comey at one point told Senators, "Lordy, I hope there are tapes."
Comey also testified that the Trump administration "chose to defame me," told "lies, plain and simple" and that he was "confused" by Trump saying he was fired due to the Russia probe.
"The administration chose to defame me and, more importantly, the FBI by saying the organization was in disarray ... those were lies," Comey said.
However, he also said that he did not believe that either Trump nor his staff had asked him to stop the Russia investigation.
He told the committee that the "shifting explanations" from the White House for why Trump fired him last month "confused" and increasingly concerned him.
Comey also revealed new details about his meeting with Trump during the transition when he briefed the President-elect on details of a salacious dossier drawn up by a former British spy that suggested that Russia had incriminating information about him. Comey said he didn't want to create a "J. Edgar Hoover type situation" in which Trump concluded the bureau was trying to hold something over him. He said he was keen to leave the impression with Trump that the FBI was not investigating him.
Comey said he took exception to White House claims that the FBI was in disarray and that it was poorly led and had lost confidence in his leadership.
"Those were lies, plain and simple, and I am so sorry that the FBI workforce had to hear them, and I am so sorry that the American people were told them," Comey said.
Comey seized center stage in a compelling national political drama as he testified that as soon as he met the President-elect during the transition, he decided to create a written record of their meetings.
"I was honestly concerned that he might lie about the nature of our meeting," Comey said.
Comey walked into the hearing room, wearing a dark suit and red tie, and sat impassively while a phalanx of press photographers crowded in front of him to take his picture. He sat alone at the witness table, facing the committee senators.
Republican Senate intelligence committee Chairman Richard Burr promised that the panel would establish the "facts separate from rampant speculation" and lay them before the American people so the nation could move on from the drama over alleged Russian interference in last year's election.