Parlor jazz, La Lupe honored at CCCA, Blue Note Fest
Ron Scott | 6/8/2017, 5:37 p.m.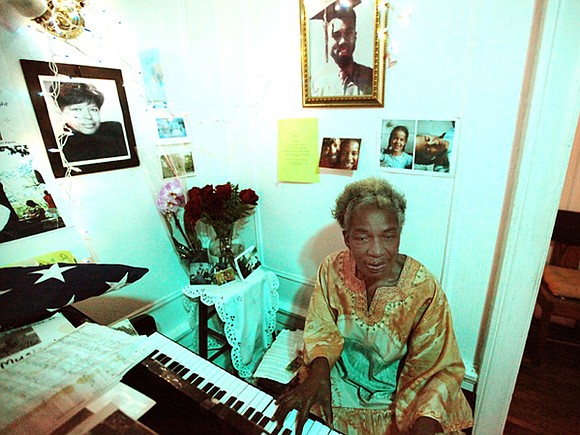 During the 1920s, rent parties were considered the hipper happenings of Harlem. It was a way for folks living in brownstones and at addresses such as 555 Edgecombe Ave. to pay their rent.
They gave out invitations to the cool people. There was a cover charge, and drinks and food such as fried chicken, potato salad and chitterlings were extra.
The tenants usually hired a live band. During those early days, jazz musicians such as James P. Johnson, Fats Waller and Willie "the Lion" Smith were regular performers at those rent parties. In Chester Himes' novel "Pinktoes" (G.P. Putnam's sons /Stein and Day, 1961), he details those high falutin' bourgeois negroes who gave "parlor parties" in Harlem where the politicians and wannabe intellectuals hung out dancing and talking stuff.
As the years danced into the 1950s and 60s, the rent parties transformed into Harlem salons with live bands, and of course food and drink were still served. Roy Haynes once told me, "Musicians couldn't wait to get uptown after their downtown gigs at the Five Spot and other clubs, so they could hang out at the parties, have some good food and jam until dawn."
The parlor scene is still a mainstay in Harlem, driven by the pianist and playwright Marjorie Eliot, who has been running a swinging gig at her apartment every Sunday from 3:30 p.m. to 6 p.m. at 555 Edgecombe Ave., Apartment 3F.
This marks Eliot's 25th year running her Parlor Jazz Series, which features her longtime committed band of pianist/vocalist, Rudel Drears; saxophonist and reed player, Sedric Choukroun; and trumpeter Koichi Yoshiharo. The party also includes readings from her plays by such actors as Arthur French, Eric Coleman, Cooki Winborn and Choukroun.
The weekly live music and refreshments are free.
Eliot explained, "We have managed to get by on the donations we receive each week." Over the years Eliot has received a wealth of awards. "It is not about any awards it's about the amazing people that attend every week, they are my family," she said. "I do this in honor of my children and the love and jazz."
There isn't a history of jazz parlors in New Rochelle, N.Y., but the jazz enthusiast Pauline Smith has changed that concept. For the past four years, she has been presenting live jazz in her house (28 Watkins Place) at an admission price of $15 per person that includes food and drinks.
At the end of the set, a large tip jar is passed around. "I don't make any money," said Smith. 'All the money from admissions and tips go directly to the musicians. I like to bring people together who may not ever come together. I get great pleasure from doing this—pure joy."
Her expenses for each concert include renting chairs, buying food and making flyers. She usually presents live music six to seven times per year from March through June and in the fall from September to November.
Smith does not try to book her performers through managers or agents, but speaks directly with the specific artists. As an avid jazz fan, she attends a lot of jazz concerts and clubs where she gets an opportunity to meet a host of musicians.