Carnegie Hall to celebrate 100th birthday of Sylvia Olden Lee
Lena Johnson | 6/29/2017, 9:37 a.m.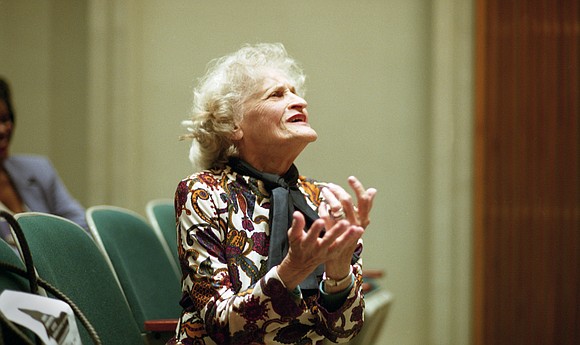 On June 29 at 7:30 p.m., The Foundation for the Revival of Classical Culture is holding a concert at Carnegie Hall to honor the 100th birthday of a world-renowned classical music singer and teacher. Sylvia Olden Lee, one of the greatest of the vocal coaches of the 20th century, was the first African-American staff member at the Metropolitan Opera.
The Harlem Opera Theater, the Schiller Institute and the New York Chorus are all collaborating for the event. The performance lineup for the event consists of those who knew and worked closely with Lee throughout their careers, including Osceola Davis, Simon Estes, Elvira Green, Everett Suttle and others.
A symposium, titled "The Aesthetic Education of Humanity Through Music—Calling All Music Teachers and Lovers of Wisdom," will take place the following day at the Bruno Walter Auditorium at Lincoln Center. A discussion will be led by the concert performers, who will present their experiences and methods of teaching to new generations of musicians.
More than 1,000 people are expected to attend the concert, most of them between the ages of 11 and 18. Lee was very passionate about making clas `sical music a part of the lives of young people, and she emphasized the importance of music performance and education. She went on to start Project SYLVIA, short for Saving Young Lyric Voices in Advance, which served as a comprehensive approach to teaching voice training, and it focused on developing and maintaining the voices of both matured professional and non-professional singers.
Lee often said, "The great voices of the operatic stage are singing in the garages, waiting on tables and singing in the showers of our country."
Lynn Yen, the executive director of the Foundation for the Revival of Classical Culture, conducted an interview with renowned musician Simon Estes. When asked about Lee's legacy and the importance of music education, Estes replied, "If you think of all the symphonies—and Sylvia knew most of them—as well as music with text, a person can create within their own imagination and their emotion, and their heart will be touched to appreciate this type of music. I think it is vitally important that it should be included in the education curriculum in the elementary schools up through the high schools."
At just 16 years old, Sylvia Olden Lee played for President Franklin Delano Roosevelt's inauguration. After having studied piano and organ at Howard University and Oberlin Conservatory, Lee became a direct link to the origin and development of the African-American spiritual in the United States. In 1954, she was hired as part of the staff at the Metropolitan Opera. A descendant of a slave, Lee retains roots in Oldham Plantation in Kentucky, from which her enslaved grandfather, Nelson Merry, ran away to fight with the Union Army at the start of the Civil War. Merry was born in 1824 and was the founder of the First Colored Baptist Church in Nashville, Tenn. Feeling very proud and in touch with her African-American identity, Lee was able to change the public's then perception that the Negro spiritual was inferior to the traditional canon of classical music. In an excerpt from an article by Dennis Speed, Lee said her father's job as a minister was to "break out a cappella in the choir with the very first thing that came into his head from the sermon, such as, 'I never been to Heaven, but I been told…' Then the whole church would join in
unaccompanied."
Lee said, "It was a kind of a cappella Negro Spiritual. There weren't more than 10 musicians in the congregation, but everybody sang four-part harmony."
Lee died at age 86 in April 2004. In an interview with Yen, Estes, who is scheduled to perform at Lee's celebration, recognized that Lee's legacy revolves tightly around classical music and its effect on youth today. "I'd like the young people to know that music knows no color; it has no boundaries," he said. "It is a gift that God has given people whether they are composers or singers or instrumentalists. Let the young people know that by coming to this concert, you are going to hear some diversified, neat classical music. The spirituals are going to be included, which is a different part of American culture and history, as well as composers. Let them realize that they, too, can perform or sing that music, whether it be with the human voice or
other instruments."
The tribute to Lee takes place Thursday, June 29, at 7:30 p.m. at Carnegie Hall. More information on the concert and the symposium can be found at www.fftrocc.org.