Miami Jazz Fest's WDNA-FM debut, Mustafa Jazz Fest
Ron Scott | 6/29/2017, 10:38 a.m.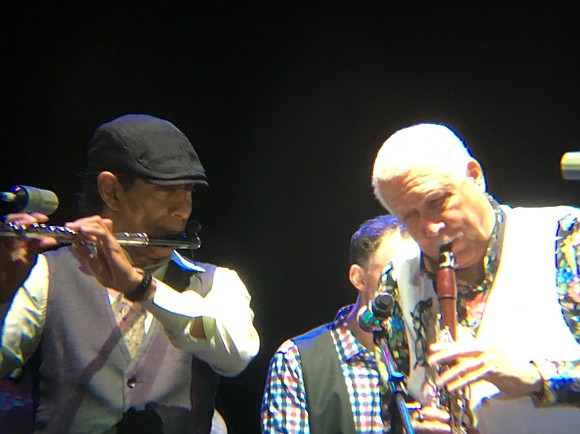 These days the only time you hear about Miami is in a political context on those rare occasions "the Orange Barron" visits from the "Crazy House" to cajole his loyal Cuban Republican supporters.
Over the years, Miami has become a melting pot for a host of countries whose cultural traditions and music have become a fabric of the city. Politics aside, the vibrant city of Miami is a hotbed for musical genres ranging from Cuban to Columbian, Venezuelan and Reggae to jazz, blues and soul.
To some it came as a surprise that WDNA (88.9 FM) "the serious jazz radio station" was just embarking on its first jazz festival. The two-day (Friday and Saturday, February 24-25) series they named the "Miami Downtown Jazz Festival" created such a swinging presence, discussions are in progress for next year.
"We pride ourselves in presenting serious jazz," said Howard Duperty, sales and marketing manager, WDNA. "Any day of the week, you have options for jazz. We were at a point where we needed the music to go along with our good weather. We are confident this festival will be on the international jazz map."
The outdoor festival had one interesting twist that sets it apart from the many outdoor festivals held throughout the country. Both days of the concerts featuring incredible jazz musicians were free at the seven venues. The final evening concert held at the Bayfront Park Amphitheater charged an admission.
That concert included an all-star lineup, with the Brazilian guitarist Chico Pinheiro and his quartet and the soprano saxophonist, flutist and composer Jane Bunnett and Maqueque, her amazing all-female Cuban ensemble, who sold out New York City's Birdland last year.
Bunnett and Maqueque (the energy of a young girl's spirit) is an intoxicating ensemble that adds a bright simmering spark to the term Afro-Cuban jazz. The young ladies were extremely adept on trumpet, violin, drums, bass and piano, as well as group vocals. Dancing in the aisles was automatic. They are a group that gets better with each performance, regardless of the venue or country.
The festival's finale included the flutist Hubert Laws and his quintet and the clarinetist and saxophonist Paquito D'Rivera and his quintet, with special guest violinist Frederico Britos and flutist Nestor Torres.
Laws intercepted the genres of classical and jazz with compositions such as "Land of Passion" and "What a Night," playing both the flute and piccolo. His undeniable tone and compelling ensemble were in hard-bop mode on Oscar Brown's composition, "Dat Dere."
In his rendition of the classical composition by Igor Stravinsky, "Rites of Spring," the band started in a classical context that became cloaked in jazz interludes.
Laws is one of the few classical musicians who has mastered jazz, pop and rhythm-and-blues genres, moving effortlessly from one repertory to another.
D'Rivera joked about the current political atmosphere, stating, "I better speak in English because anything can happen." Playing saxophone, he moved into a classical conversation with flutist Torres that quickly escalated into a hot swinging Latin samba with the band rolling on all cylinders. They also went into a bolero swing in the bebop tradition.