Mrs. Fannie B. Peck, founder of the National Housewives' League
Herb Boyd | 6/29/2017, 9:52 a.m.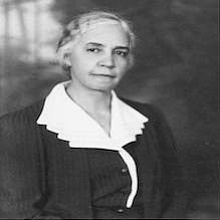 While doing research on "Black Detroit," which chronicles the history of the city's African-American citizens' struggle for self-determination, I encountered so many often neglected freedom fighters and civic leaders. Last week I showcased the Northcross family and the peerless contribution they made to the medical profession. This week the profile is on Mrs. Fannie B. Peck, the founder of the National Housewives' League, and the wife of the prominent religious and civil rights champion, the Rev. William Peck.
In a world and culture where there is a lack of gender equality, we know more about the Rev. Peck—although hardly enough because he was a Black man—than about his wife, the Black woman who was only mentioned in passing when the Rev. Peck was highlighted.
But Fannie Peck was a committed, forthright organizer and visionary who upon recognizing the year after year work of female domestic servants felt compelled to speak to their needs, organizing them in 1930. With an agenda of self-reliance and economic growth and independence, the National Housewives' League gradually grew in membership, reaching to more than 10,000 with headquarters in Detroit.
"The women did more than keep Black dollars in the Black community through their proscriptive purchase power," author Tonya Bolden wrote in her book "African-American Women." "Through educational outreach programs and direct action campaigns [such as boycotts] they also sparked new Black businesses and new jobs for their people."
Very little information is available about her early years, but we do know that Fannie B. McCampbell married the Rev. Peck in Chillicothe, Ohio in 1899. She was dutifully by his side as he moved from church to church and accompanied him to Detroit in 1928, where he was appointed pastor of Bethel AME Church. He would hold the position until his death in 1943.
Fannie Peck was only two years in Detroit when she began organizing the Housewives' League, and either she had the idea at the same time as A.L. Holsey in New York City, who formed the National Negro Business League, or she gave the concept more resonance. (One account notes that Peck and her husband heard Holsey speak about a similar organization of women during an appearance in Tuskegee and were inspired to emulate it.) Whatever the case, when the National Negro Business League convened in 1932, Peck was elected the first chair of the committee. A year later, with the official announcement of the National Housewives' League, she was elected its first president.
The league wasted no time in implementing an action agenda. According to one news account, the league took on the meat packing industry, burning a huge packing house in protest of high prices, and they joined thousands of Chicago housewives in a march that shut down the entire meat industry. Leagues initiated negotiations, boycotts and canvasses locally to convince neighborhood business to hire Black employees. Leagues began to form all over the country, one in New York, Washington, D.C, Maryland and Ohio, all of which solidified the organization's national impact.