Mrs. Fannie B. Peck, founder of the National Housewives' League
Herb Boyd | 6/29/2017, 9:52 a.m.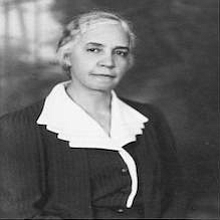 Along with her activities with the league, Peck was deeply devoted to the church, rarely if ever missing a service and conducting Sunday school classes. There was also her commitment to the Parkside Hospital and the Women's Missionary Auxiliary. In 1936, she organized the Fannie B. Peck Bethel AME Church Credit Union, which for years was a stable and resourceful institution.
It should be noted that the league often worked in conjunction with the Booker T. Washington Trade Association that was led by the Rev. Peck.
To pay tribute to Peck's dedication to the league, in 1947 the organization planned a special day for her, announcing that May 18, 1948, would be Fannie B. Peck Day. For nine years, the league's bulletin observed, Peck served as president "unselfishly" and with a vision toward empowering women in all walks of life. Christina Fuqua, the president of the league at that time, said the weeklong celebration would be one in which various educational and fundraising activities would be launched in keeping with Peck's lifelong pursuits.
In 1950, Detroit had its own salute for Peck, declaring May 24 her special day. The Michigan Chronicle wrote, "A whole generation of youngsters in Detroit owe their improved position economically and their presence in a constantly improving community in part, if not entirely, to the efforts of Mrs. Peck and those who have been associated with her for the past 20 or more years."
We know by this time the Rev. Peck was dead, but it is not known how she endured this loss, and whether there were children to raise.
Peck died in 1971. She was 91.