Nashville is more than country music
Megan Pinckney | 6/29/2017, 10:27 a.m.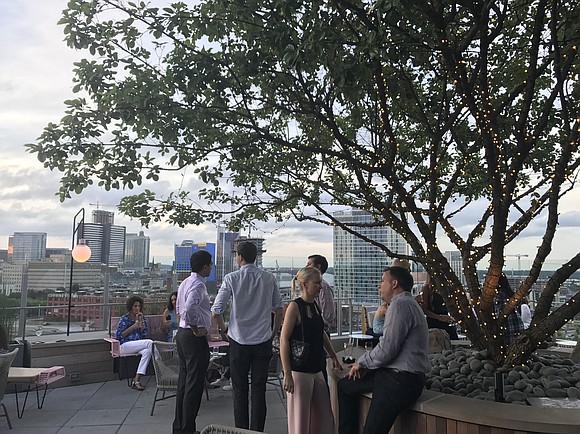 It's almost impossible to not think of country music when you think of Nashville. Because although The Music City has been the birthplace of hits in almost every genre, the number of country songs produced there have far surpassed all others. Over the years the city has imploded, becoming a headquarters for country stars the way Hollywood has for actors. But the city has a lot more to offer than just recording studios and a ton of bars that allow up-and-coming singers to perform live. Young professionals are flocking to Nashville for its lively "after-work" lifestyle and astounding number of opportunities in a variety of fields. Plan a weekend to introduce, or reacquaint, yourself with Tennessee's largest city!
Where to stay
Located in the heart of The Gulch, a super-trendy and super-hip neighborhood that caters to the city's young professionals, you'll find the upscale Hotel Thompson—a must-stop while in Nashville, whether you're a guest or not. The hotel is, without a doubt, most celebrated for its energetic rooftop with stunning views of The Music City, making it one of the neighborhood's favorite happy hour spots. The hotel's energy greets you well before you enter the door, in part because of how active the valet service makes the sidewalk. There is a "luxe" art deco feel all throughout the hotel, but especially in the hotel's restaurant and its super-cute coffee shop—located on opposite ends of the lobby. The rooms are pretty standard in size, but I appreciated the attention that was spent to the little details (the bathroom had remarkable floor tiles). Most importantly, the rooms are cozy and most offer great views of Nashville. A room with a city view and a king bed starts at $379 per night.
Nightlife
Surprisingly, it is possible to enjoy Nashville's infamous Broadway district without having to listen to live bands cover famous country and rock songs. Both Valentine and Crazy Town, conveniently located next door to one another, allows patrons to enjoy the excitement (and out of control antics) of Broadway through music that definitely wasn't recorded down the street in one of Nashville's famous recording studios. On the night that I bar hopped between the two establishments, I danced to the musical stylings of Ginuwine, Kanye West, Fetty Wap and Big Sean, as well as a variety of other rap music that you would easily hear in almost any Atlanta club. The drinks were reasonably priced, the crowd's energy and non-judgmental attitude allowed my friends and me to let loose and dance freely, and both bars offer rooftop access with great views of Broadway and downtown Nashville.
Where to eat
The food scene in Nashville is exploding. Country stars, as well as renowned chefs, are continuously opening new restaurants that offer way more than just beer and wings.
For dinner, be sure to make a reservation at super-chic boutique steakhouse, Kayne Prime. Also located in The Gulch, within walking distance of Hotel Thompson, Kayne Prime pairs a traditional, yet fresh, farm-to-table steak menu with a modern, hip atmosphere. Try to snag a booth at the back of the bar area for a VIP feel (the booth is enclosed on three sides) and don't leave without trying the cream corn brulee. A dress code is enforced. Guests should be dressed in business casual. Shorts, hats, sleeveless shirts, jerseys and flip-flops should all be avoided.