Nashville is more than country music
Megan Pinckney | 6/29/2017, 10:27 a.m.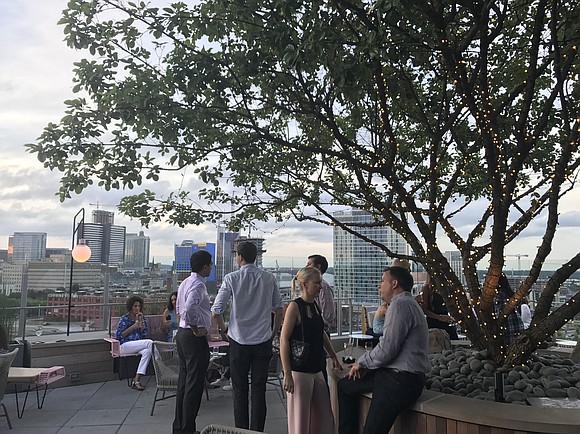 If you're in the mood for something a little less fancy, or in the mood for something other than bar food in the middle of the night, try The Diner. Located within walking distance of Broadway, The Diner is a large, six-story restaurant serving classic American dishes and cocktails, along with sushi and oysters, 24-hours a day. Each floor of the restaurant offers something different. The first floor is a most like a traditional diner, decked out in classic diner stools, black and white tiled floor, plush black booth chairs and vibrant red chandeliers. The second floor is the cocktail and sports lounge, the third floor is the restaurant's kitchen, floors four and five are dining rooms, and the sixth floor is the "oyster, seafood and sushi" bar with breathtaking views of the city's skyline.
You can't leave Nashville without stopping into the downtown GooGoo Shop and Dessert Bar to pick up a few of Nashville's most famous sweet treats—GooGoo clusters. The classic American treat, first created in 1912, the yummy candy contains marshmallow nougat, caramel and roasted peanuts covered in milk chocolate.
Where to shop
There are countless little boutiques around Nashville that offer the latest in fashion, but if you want a different experience that's unique to the city, stop into one of the three United Apparel Liquidators. UAL is a discount clothing, designer outlet with a thrift store feel that gives shoppers the opportunity to hunt and discover gently used (although sometimes brand-new) designer goods at an incomparable cost. You can find pieces by designers such as Dolce and Gabbana, Stella McCartney and Iro for a fraction of the original cost. Because the fun is in the hunt and all three stores have different merchandise, plan a day that allows you to stop into more than one—if not all three!
Megan Pinckney (@shadesofpinck) is a retired beauty queen turned lifestyle blogger who loves exploring the world and writing about it.