6 takeaways from Trump's address to Congress
Eric Bradner, CNN | 3/1/2017, 11:33 a.m.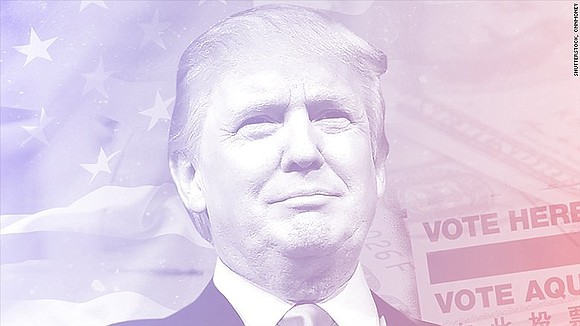 WASHINGTON (CNN) -- President Donald Trump showed his aspirational side Tuesday night.
Gone from his speech to a joint session of Congress were the lengthy attacks on media and Democratic opponents. Missing was the gloom-and-doom warnings of "American carnage" from his inaugural address. And while he didn't deliver a ton of policy specifics, Trump smoothed his rough edges, soothed congressional Republicans and reached out to populations he'd previously alienated.
"The time for trivial fights is behind us," Trump said.
The question, of course, is whether Trump will take his own advice when he's facing some criticism and Twitter is calling.
Here are CNN's takeaways from Trump's speech:
'Etched into eternity'
The most stirring moment of Trump's speech -- and his presidency -- came when he spoke directly to Carryn Owens, the widow of Navy Chief William "Ryan" Owens, who was killed in the military raid in Yemen that Trump ordered shortly after taking office.
Trump said "Ryan died as he lived: a warrior, and a hero." Then, he defended the value of intelligence gained on the raid.
"Ryan's legacy is etched into eternity," the President said.
Trump led a 2-minute, 11-second standing ovation as Carryn Owens stood, crying and clasping her hands.
"Ryan is looking down right now. You know that. And I think he's very happy, because you just broke a record," Trump said, joking about the length of the applause.
"For as the Bible teaches us, there is no greater act of love than to lay down one's life for one's friends," Trump said. "Ryan laid down his life for his friends, for his country, and for our freedom -- we will never forget him."
CNN contributor Van Jones said Trump "became president of the United States in that moment. Period."
"He did something extraordinary and for people who have been hoping that he would become unifying, hoping that he would find some way to become presidential, they should be happy with that moment," Jones said.
Trump's American exceptionalism
Trump's Republican National Convention speech painted a picture of a struggling nation in need of rescue. His inaugural address described "American carnage" and declared that "from this day forward, it's going to be only America first."
But on Tuesday night, Trump looked to the stars -- "distant worlds," even.
"Cures to illnesses that have always plagued us are not too much to hope. American footprints on distant worlds are not too big a dream. Millions lifted from welfare to work is not too much to expect. And streets where mothers are safe from fear -- schools where children learn in peace -- and jobs where Americans prosper and grow -- are not too much to ask," Trump said.
He said he was "asking all members of Congress to join me in dreaming big, and bold and daring things for our country."
His uplifting message was dramatically different from Trump's usual rhetoric -- and also from his usual controversies. For the night, he set aside his demands that Mexico pay for a border wall, and his claims that "extreme vetting" and his travel ban are necessary --- even as his administration prepares to release a revised ban.