A Charleston native's top hometown hotels
Megan Pinckney | 3/2/2017, 12:12 p.m.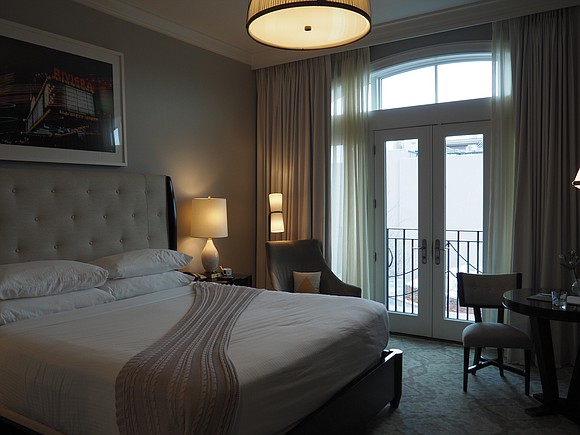 Spring is the best season to experience all that the historic city of Charleston, S.C., has to offer. With unseasonably warm temperatures descending down onto the Holy City over the past several weeks, it may be fair to say that spring has officially sprung. And everyone that has tried booking a room in Charleston over the past few weeks will agree. Limited space and soaring prices suggest that the tourist season (which usually doesn't pick up until late March) may
have already begun.
If you've been thinking of visiting, but aren't quite sure where to stay, take it from a local. Here are my top three favorite hotels in Charleston!
The Grand Bohemian
The Grand Bohemian Charleston is a swanky luxury boutique hotel located in the heart of downtown. Unlike most things in the city, nothing about this hotel feels historic. Instead, the hotel features bold colors, graphic patterns and furniture with lots of flair throughout its 50 guest rooms and lobby. Needless to say, every corner of this hotel is the perfect backdrop for your next Instagram photo.
Though a bit small, each room is equipped with a bed that offers a great night's rest and incredible one-of-a-kind artwork. The hotel's love for great art extends beyond the rooms and into the Grand Bohemian Gallery located on the ground level. Guests (both staying at the hotel and not) are invited to view a collection of work by locally and nationally renowned artists. And if you pop in at the right time, the gallery director may be able to take you on a complimentary tour throughout
the gallery and hotel.
At the very top of the building you'll find Élevé, Grand Bohemian's rooftop restaurant, which offers modern American cuisine with a coastal influence. If you aren't the hotel dining type, Élevé's outdoor rooftop lounge is worth a visit for a few drinks. The cozy lounge offers posh seating, a fire pit and some of the best views Charleston has to offer. The hotel, however, is most proud of its wine blending room and for being the first stand-alone hotel in the United States to offer educational
wine blending classes.
The hotel staff is friendly and helpful, but they also understand the importance of giving guests their personal space—which can oftentimes be hard for hotel staff in smaller hotels. Rooms start at $254 a night. Valet parking is offered; however, a self-park garage is steps away from the hotel.
The Spectator
I always offer an extra star to hotels that care enough about their guests to offer them a welcome cocktail when they first arrive! There is just something about that Southern hospitality that warrants high remarks. So I would not be surprised at all if I found out that The Spectator's bourbon apple cider cocktail (offered to you at check-in—and brought to your room if you so happen to ask) had something to do with them recently being named the No. 1 city hotel in the
continental United States.
Along with the cocktail, the hotel offers a contemporary take on the elegant and art deco feel of the 1920s throughout its 41 guest rooms, lobby and late-afternoon cocktail bar. Every day, each room is thoughtfully stocked with complimentary minibar items and popular local snacks made from recipes that date back centuries.