A Charleston native's top hometown hotels
Megan Pinckney | 3/2/2017, 12:12 p.m.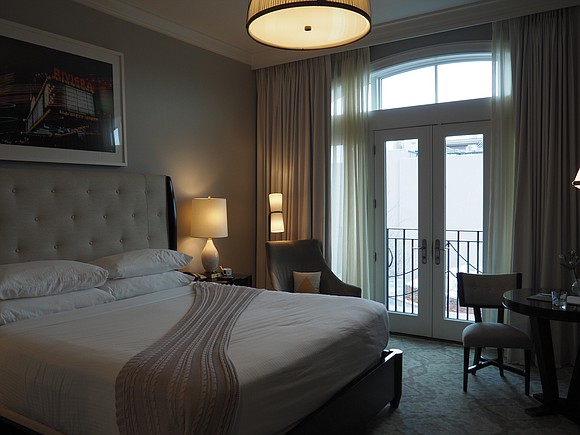 Adding to its appeal, most rooms have a view of the city's most recognizable landmark (the Arthur Ravenel Jr. Bridge) and all rooms come with butler service. That's right, butler service! For the duration of your stay, a butler is assigned to be at your service for whatever you may need. Think unpacking or repacking, making reservations at that restaurant everyone's trying to get into, scheduling tours or appointments, ironing, anything!
The hotel is located feet away from some of Charleston's busiest streets, yet it feels tucked away as its own blissful refuge from the rowdiness that tends to ensue outside. But being tucked away does not mean you will miss any of the action. Within minutes, guests can walk to popular destinations like Lower King Street, the Shops at Belmond Charleston Place, the Market district, dozens of noteworthy restaurants, Waterfront Park and even the historic Battery. And occasionally, a horse-drawn carriage filled with tourists will trot by the hotel, providing a unique visual that only enhances the
hotel's old-world charm.
The hotel is very easy for Uber drivers (or local friends) to find. Valet parking is offered and probably preferred as self-parking would be difficult because of the vast number of nearby metered spots that restrict parking in the wee hours of the morning.
Rooms start at $329 a night.
The Vendue
The Vendue is Charleston's first and only hotel dedicated to the arts. The boutique hotel has installed more than 300 pieces of art throughout its property, which spans across two historic warehouses located on either side of Vendue Range.
An understanding of the hotel's tagline, "Historic even by Charleston standards," takes place the moment you pull up. Its colorful exterior looks just like a building you'd expect to see in a sketch of old Charlestown, which is fitting once you realize its oldest warehouse dates back to 1780. That historic feel is continued throughout the property's beautiful refinished wood floors, the exposed brick featured in some rooms, the giant Iron Gate on the ground floor and the fact that no two rooms are geometrically the same. Each unique bedroom was decorated with various period-specific furnishings and antique pieces to complete the look. (Note: interior rooms have no windows, and I found happiness in a "signature room.")
The Vendue offers guests three distinct dining experiences: The Drawing Room—a lavish dinner spot specializing in sophisticated locally sourced seafood and produce, The Rooftop—a year-round outdoor spot that offers cocktails, lunch and dinner, and The Press—a small café that offers a variety of coffee options and small bites.
The hotel is just steps away from the Waterfront Park, The Battery, the market and dozens of restaurants. Self-parking options are all around the hotel, and valet parking is offered as well. Rooms start at $169 a night during the week.
Megan Pinckney (@shadesofpinck) is a retired beauty queen turned lifestyle blogger who loves exploring the world and writing about it.