College of Staten Island wins CUNYAC Championship
Lois Elman | 3/2/2017, 1:55 p.m.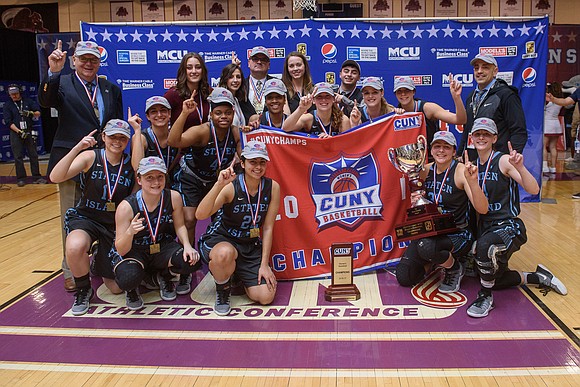 "We forced teams to play our style of game—fast, quick, pressured and up-and-down constantly," said Tim Shanahan, head coach of College of Staten Island women's basketball, which won the CUNYAC Championship for the first time since 2005. "We do the little extras—boxing out, our defense, our pressure."
Junior guard Christina Pasaturo was named CUNYAC Finals MVP and junior guard Angelique Price was named to the CUNYAC All-Tournament Team. Although Pasaturo enjoyed the honor, team success is her top priority.
"We definitely had our ups and downs this season," said Pasaturo. "We're a gritty group and we stuck to it. We picked each other up and we just kept doing what we were doing day in and day out. We knew the playoffs were the most important time.
"My team played phenomenally," she added. "If there could have been an MVP for every single girl who was on the court that night, it would have been a more accurate depiction of how the game went."
A highly competitive person, Pasaturo said she brings her work ethic and experience to the team. She had great upper class women leaders her first two years and she tries to live by the examples they set. That includes putting winning as the No. 1 goal. Shanahan described her as incredibly selfless and said overall, it's a team-oriented group.
The CUNYAC Tournament provided a range of experiences for the Dolphins—from an easy 90-37 rout of John Jay to a mildly challenging 69-43 win over Lehman to a ferocious battle of wills with Brooklyn College, with Staten Island prevailing 53-42 as both teams coped with fatigue.
"They were hungry; they wanted this," said Shanahan. "From practice to games, they bought into whatever I was saying. They played 40 minutes a game, 40 minutes of fury up and down the court."
The Dolphins open play in the Division III Women's Basketball National Championship Tournament Friday in Newport News, Va., against Christopher Newport University. Although the Dolphins are facing a much taller team, Shanahan said the Captains are going to have their hands full facing a determined group. "If they take us lightly, they're in for a big surprise," said Shanahan.