Dance Calendar March 2017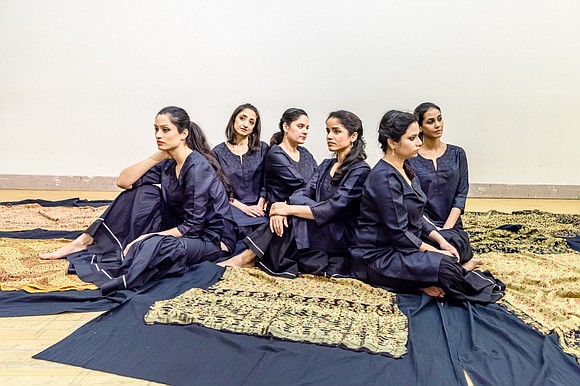 Dance in March offers up an assortment of cultural forms and more. From March 2 to March 4, at Danspace Project, the Indian dance performance collective The Kathak Ensemble & Friends, under director Janaki Patrik, returns with their all new Indian-influenced contemporary dance work "WE SINFUL WOMEN." Based on the eight (Pakistani) Urdu poems first published in 1990, "WE SINFUL WOMEN" "…speak[s] to the universal repression of women…[and]… seeks to give voice, through melody and movement to the words of the female Urdu poets Ishrat Aafreen, Kishwar Naheed, Zehra Nigah and Fahmida Riaz." The ensemble of six (Aditi Dhruv, Kanushree Jain, Megha Kalia, Romanee Kalicharran, Bharathi Penneswaran and Saloni Somani) will perform to original commissioned music by two-time Canadian Grammy winner and composer Kiran Ahluwalia, according to the release. For more information, visit www.danspaceproject.org.
ALSO THIS MONTH
March 1-4—Malpaso Dance Company returns to BAM with "Dreaming of Lions," a new evening-length dance work by resident choreographer and artistic director Osnel Delgado. "Dreaming" draws "…inspiration from Ernest Hemingway's… 'The Old Man and the Sea,' performed to a new and original score composed and performed by Arturo O'Farrill, along with his Afro-Latin Jazz Ensemble. For more information, visit www.bam.org.
March 3-5—At Japan Society, the Kabuki-trained company, Nihon Buyo Dance (Nihon Buyo translates to "Japanese dance") brings the Japanese dance genre accompanied by a music ensemble featuring traditional instruments. For more information, visit www.japansociety.org.
March 4—Fritzlyn Hector, aka "Fritz," the African-Haitian Brooklyn native, will present an evening of dance works that integrate urban, traditional and contemporary forms. For more information, visit www.symphonyspace.org.
March 3, 11, 17 and 25—"It's Showtime NYC!" a program of "Dancing in the Streets," comes to Battery Park with new dancers, new work and new moves celebrating the New York City street culture. For more information, visit www.itsshowtime.nyc.
March 4-8—Gibney Dance: Agnes Varis Performing Arts Center will host "Our Configurations," a mixed-ability performance and programs featuring works by disabled and non-disabled artists and companies: AXIS Dance Company, Marc Brew, Kinetic Light and Marissa Perel. These performances are a result of the continued discussion around dance and disability. Workshops are also scheduled. For more information, visit www.gibneydance.org.
March 5—Nai-Ni Chen Dance Company, in collaboration with Taipei Cultural Center of TECO in New York and Flushing Town Hall, presents "CrossCurrent IV" featuring Nai-Ni Chen, Kun-Yang Lin and PeiJu Chien-Pott. A panel discussion will follow the one-hour performance. For more information, visit www.flushingtownhall.org.
March 9-11—The Flamenco Festival returns to New York, with some of Spain's celebrated dancers and musicians. The 2017 lineup includes Gala Flamenca (Mar 9-11), an all-star event directed by Manuel Liñan plus Juana Amaya, Olga Pericet, Jesús Carmona, Patricia Guerrero and singer-songwriter Rocío Márquez. On March 12, the festival culminates with the New York premiere of "Pisadas," starring Pericet "…that explores the origins and rituals of human life with a daring feminist slant," notes the release. For more information, visit www.flamencofestival.org.
March 9-April 8—The Bronx Academy of Arts and Dance – BAAD! ASS Women Festival returns with the usual mix of dance, comedy, poetry, music and performance aimed at "…celebrating the empowerment of women through art, culture and performance," according to the release. Dance events are "Sole Sisters" (3/11) with Jessica Danser, Aya Lane,Esther Baker-Tarpaga and more; (3/18) Maria Bauman and other artists; (4/7-8) Davalois Fearon Dance, plus more. For more information, visit www.BAADBronx.org.
March 11—Ballet Hispanico goes to Washington Heights' United Palace of Cultural Arts with a fun-filled, 90-minute program specially curated for children and families that will take them on a journey through Latin American dance and culture, hosted by artistic director and CEO, Eduardo Vilaro. For more information, visit www.unitedpalace.org.
March 11—At the Cathedral of St. John the Divine, in "Remembering Fukushima: Art and Conversations at the Cathedral," Eiko Otake continues to bring attention to "…the biggest earthquake in Japanese history [when] Northeast Japan shut down the operations of the Fukushima Daiichi nuclear plant. The largest tsunami ever…followed…" notes Otake. "Remembering Fukushima" … coincides with the closing of "The Christa Project," a large-scale exhibition at the Cathedral featuring the work of 21 contemporary artists. For more information, visit www.stjohndivine.org.
March 17—In New Jersey at the South Orange Performing Arts Center, their "Triple Threat Dance Showcase" will feature Umoja Dance Company, Alborada Spanish Theatre and Nimbus Dance Works. For more information, visit www.sopacnow.org.
March 18-19—The National Dance Theatre Company of Jamaica returns to Brooklyn Center for the Performing Arts, with their blend of folklore, music and dance of Jamaica, Africa and the American South, mixed with modern and classical forms. For more information, visit www.brooklyncenter.org.
March 25—Onstage at Kingsborough and Brooklyn's Kingsborough Community College presents Che Malambo, the 14-member Argentine company of gauchos (cowboys), with precision footwork, rhythmic stomping, drumming, singing and whirling boleadoras (lassos). For more information, visit www.onstageatkingsborough.org.
March 29-April 2—The American Tap Dance Foundation's yearly performance showcase, directed and curated by American Tap Dance Foundation Artistic/Executive Director Tony Waag, "Rhythm in Motion," returns with new choreography in two different programs at The Duke on 42nd Street. This year's lineup includes Susan Hebach, Kazu Kumagai, Max Pollak, Caleb Teicher, Lisa La Touche, Joseph Monroe Webb, Brinae Ali, Chloe Arnold, Felipe Galganni, Ana Rokafella Garcia, Leonardo Sandoval and Gabe Winns. For more information, visit www.atdf.org.
March 29-April 2—Ailey II makes its NYU Skirball Center for the Performing Arts debut with two programs for their annual season: The all new program showcases Jae Man Joo's "Circular," former Ailey company member Marcus Jarrell Willis' "Stream of Consciousness" and Bridget L. Moore's "Sketches of Flames." The contemporary favorites program showcases "Meika" by French choreographer Leila Da Rocha, "In & Out" by Ailey School alumnus Jean Emile and Alvin Ailey American Dance Theater dancer Jamar Roberts' "Gêmeos" (Portuguese for twins). For more information, visit www.alvinailey.org.