Eddie Palmieri at Rose, Banana Puddin', Jazz & Democracy
Ron Scott | 3/2/2017, 12:08 p.m.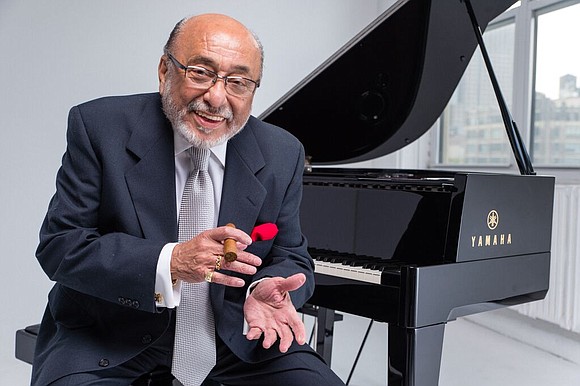 Great bands are known for their perfected sound and a swinging style that is so undeniable. Some try to duplicate and others just want to testify.
The renowned pianist and composer Eddie Palmieri was already respected for his stunning piano work, but when he replaced the traditional salsa instrumentation of trumpets with two trombones and flute for a more penetrating sound, he changed the New
York Latin sound.
March 3 and March 4 Palmieri will bring his forceful sound that is now his signature in salsa and Latin jazz to Jazz at Lincoln Center's Rose Hall (60th Street and Broadway).
Palmieri, who is still celebrating his 80th birthday (Dec. 15), stated, "This will be the most historical musical night having to do with Latin music. We have re-orchestrated all the music."
The Afro-Caribbean dance orchestra will be a mini reunion from the Palmieri school, including longtime collaborators Jimmy Bosch, authentic sonero Hermán Olivera on vocals, Charlie Sepulveda, Louis Fouché of "The Late Show with Stephen Colbert," Joseph Fiedler, Doug Beavers, Brian Lynch, and Herman Olivera from Orlando.
The performance will also be streamed live online Saturday, March 4, at 8 p.m. at www.jazz.org/live.
"First it started out as Afro-Cuban then Afro-Caribbean, but now after we have traveled all over the world it is now Afro world," stated Palmieri.
His new CD "Wisdom" will be released in April. The pianist said, "It is a great Latin jazz album."
As the leader and founder of the bands La Perfecta, La Perfecta II and Harlem River Drive, Palmieri has every reason to expect this album to live up to his expectations. He has accumulated a total of nine Grammy Awards, including one for his 2006 album "Simpatico."
In 1975, Palmieri became the first Latin musician to win a Grammy Award for Best Latin Recording with "The Sun of Latin Music."
For me his greatest album will always be "Azucar Pa' Ti" ("Sugar for You"), Fania 1965. In Edenwald Projects in the Bronx, if you weren't carrying "Azucar" and a Miles Davis album under your arm on the way to a young lady's house or party, you were totally lame.
"Azucar Pa' Ti" is in the National Archives of the Library of Congress. The title track was one of the first long cuts. At that time most tracks were two minutes, but this salsa sizzler was a hot nine minutes and 35 seconds.
Although Palmieri was born in Manhattan, he was raised in the Bronx and lived at 830 Kelly Street. As a youngster he worked in a store where he was the soda jerk (making ice cream malts and cream sodas), but he was also in charge of the jukebox. "The music on my box was the best in the Bronx," noted the NEA Jazz Master.
At the age of 13 Palmieri was playing the timbales. His uncle warned him, "That instrument is too heavy for you to carry. It's going to give you a hernia. You should consider the piano." After much deliberation, he packed up his timbales and gave the instrument back to his uncle.