Film immortal, Hattie McDaniel
Herb Boyd | 3/2/2017, 11:16 a.m.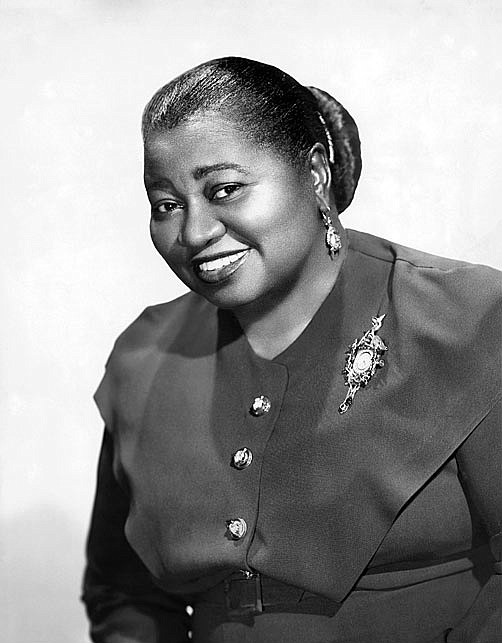 Hattie McDaniel was the Jackie Robinson of filmdom as the first African-American actor/actress to win an Oscar. She won Best Supporting Actress for her performance in "Gone with the Wind" (1939). The award was the culmination of a screen career in which McDaniel was perennially cast as a maid and often uncredited.
"Why should I complain about making $700 a week playing a maid?" she is reported to have said about her roles in films and on radio. "If I didn't, I'd make $7 a week being one."
Born June 10, 1893, according to Jill Watts, one of her biographers, in Wichita, Kan., McDaniel was one of seven children to survive of the 13 her parents, former slaves, had. Her father, Henry, fought in the Civil War, and her mother was a vocalist, most often of religious music.
In 1900, the family moved to Colorado, first to Fort Collins and later to Denver, where Hattie was a graduate of Denver East High School. Among her first appearances onstage was a performer in her brother's minstrel show. But it wasn't until she was 27 that she really began to get noticed, and by 1925 she was a featured performer in Professor George Morrison's Melody Hounds, a touring ensemble.
Around this period, she began appearing on radio, and she is reputed to be the first African-American to sing on radio with the Melody Hounds on KOA in Denver. From 1926 to 1929, she was a recording artist for the pioneering Okeh Records and Paramount Records in Chicago.
But like so many Americans, McDaniel was a casualty of the Great Depression. She was able to subsist as a washroom attendant and a waitress at the Club Madrid in Milwaukee. It was at the club, despite the reluctance of the owner to allow her to perform, that she was finally able to become a regular performer. By 1931, she was living in Los Angeles, where she joined her brother, Sam, and her sisters, Etta and Orlena, all performers.
While she waited for film opportunities, she worked as a maid and a cook. Sam, employed at KNX on "The Optimistic Do-Nut Show," got her a spot on the show. Her role as Hi-Hat Hattie, a maid who refused to "stay in her place," made her very popular but, even so, it did not pay enough to keep her from continuing to work as a maid.
In 1932, she got her first film part in "The Golden West," as expected playing a maid. Her performance was so commanding that she earned a role in "I'm No Angel," starring Mae West. Along with this minor breakthrough, she acquired additional roles in uncredited parts, as well as singing in choruses.
Two years later, McDaniel became a member of the Screen Actors Guild and subsequently her roles were credited. She got good notices from her role in "The Little Colonel," featuring Shirley Temple, Bill "Bojangles" Robinson and Lionel Barrymore. Her first major role came with Will Rogers in John Ford's "Judge Priest" (1934). Most memorable is the duet she performed with Rogers, which began lifelong friendship.