New DNC leaders face old obstacles
Herb Boyd | 3/2/2017, 10:47 a.m.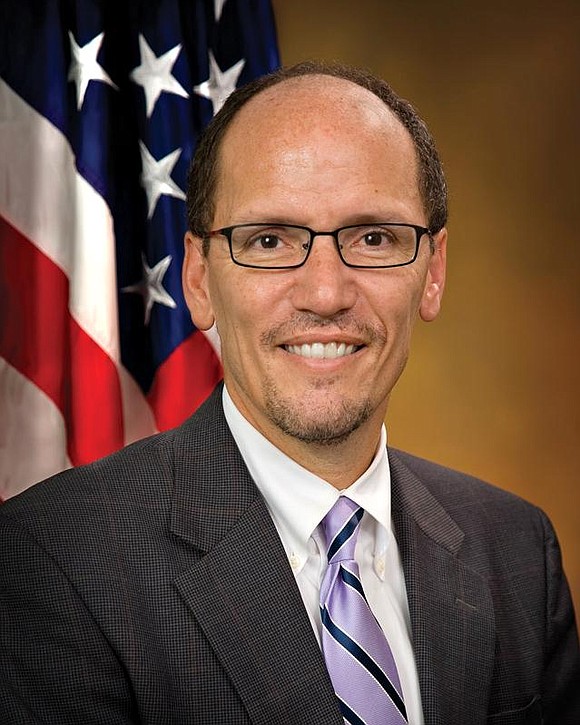 In one way the DNC contest between Thomas Perez and Rep. Keith Ellison was a continuation of the race between Sen. Bernie Sanders and Hillary Clinton during the recent presidential campaign.
But after the election Saturday, with Perez now chair of the Democratic National Committee and Ellison the vice chair, perhaps the chasm is narrowed and the Democratic Party can begin to solidify and launch a serious bid to overtake the Republicans, particularly in the nation's state houses.
Although Ellison was the choice of many on the left, Perez was backed by the Obama loyalists, including former Vice President Joe Biden. He topped Ellison, a Muslim and a representative from Minnesota, 235 to 200 votes.
Perez, the labor secretary under Obama, selected Ellison as his deputy chief, and New Yorkers were happy to learn that Rep. Grace Meng of Queens and Assemblyman Michael Blake of the Bronx were elected deputies. A formidable team is vital to bringing about change.
"I'm proposing that the DNC dramatically expand its voter protection efforts and scale a voter empowerment office that is fully funded and fully staffed with legal experts operating year-round and integrated with the party's regional, organizing and digital staff," said Perez, after his victory. "This investment is critical to ensure that everyone who is eligible to vote can do so without obstacles."
Those obstacles were readily apparent during the last election, and it had nothing to do with voter fraud as much as voter suppression. There is every reason to expect the problems will be increased because Trump's attorney general, Jeff Sessions, has begun reversing many of the measures put in place by the Obama administration, especially as it pertains to private prisons, transgender rights and other civil rights guarantees.
By choosing Ellison as his vice chair, Perez has decisively set aside one unnecessary stone in the road and smoothed the path toward a plan to bolster state parties with a 50-state strategy. There will be some 36 states with gubernatorial races by 2018, and if the Democrats are going to take charge and stop the possibility of gerrymandering, which will occur with Republican victories, then they must win the bulk of these races.
Securing Democratic state houses is also a bulwark against the shredding of Medicaid that provides the government assistance to those unable to pay their insurance premiums.
To be sure, the DNC faces an enormous task, and if the leadership of Perez and Ellison is going to mean anything, then the rank and file cannot shirk its duty. Upending the Trump status quo will require a full bore attack because the president seems to be intent on taking no prisoners with his crypto-fascist administration.