Sleek shapes in red
Renee Minus White | 3/2/2017, 11:56 a.m.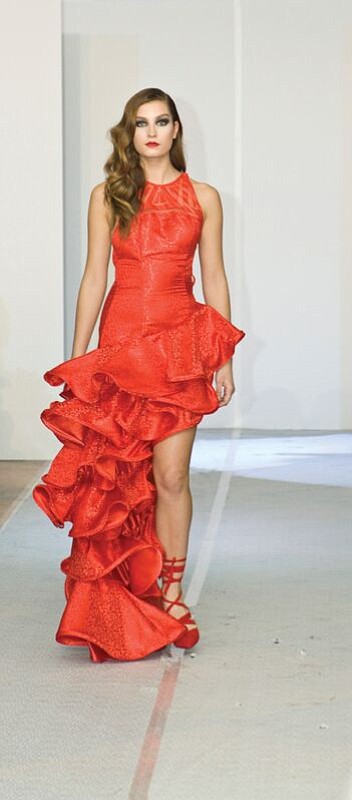 You could have called it "a collision course in red," as Edwing D'Angelo's models strutted down the runway for the designer's fall/winter '17 show. It was all about the shapes, bareness and fit. Whether the clothes were for men or women, D'Angelo's designs fit to a fashion T. His models, almost walking into one another, looked absolutely stunning. Imagine the color red in every shape, in styles from gorgeous evening gowns to tuxedos to jumpsuits.
A Columbian-born New York designer, D'Angelo is excited about his return to eveningwear and presenting formal fashion shows in New York City. "While I truly enjoyed showing overseas and seeking new markets and inspirations, the energy that I get from doing runway shows here at home in New York City is unprecedented," said D'Angelo. This season, he presented a unique point of view in a full display in the form of an all-red alert.
For this spectacular collection, he was inspired by the red uniforms worn by Pope Pious VII's noble guards, established in 1801. "I happened to come across a portrait depicting his coronation and I was floored by the vibrancy of the red and its predominance in the ceremony," explained the designer. "Red has always been one of my favorite colors, but I believe that the allure of power is what intrigues me the most." The designs in the show were created for today's woman and man. The collection could not have come at a better time because of the current social climate. His women's looks are softer tones that are romantic in the presentation. For inspiration, the designer also visits his Latin roots and combines them with the glam of his original inspiration. Enhancing the atmosphere, the draping of curtains and chandeliers influenced a sexy execution of this collection.
On the other hand, the men's collection is smart and playful. These looks offer an array of options for both night and day. D'Angelo provides slimming slacks, shirts, jackets, suits, vests, coats, sweaters and shorts, all made in cotton, wool and silks. His strong ready-to-wear tailoring skills are on full display in this sartorial concept. Body-conscious swimwear looks were an integral part of the collection. "Latin women want to feel beautiful and sexy at all times," D'Angelo commented. "There is nothing sexier than swimwear ready-to-wear that can also be a part of a woman's daily wardrobe."
In this group, there were pencil skirts, cropped trench coats and bomber jackets. There were his signature, show-stopping gowns, including a style with a high ruffled split and other gowns with beautiful trains. This designer is known for bringing sexy back to the runway.