Viola Davis: A winner, period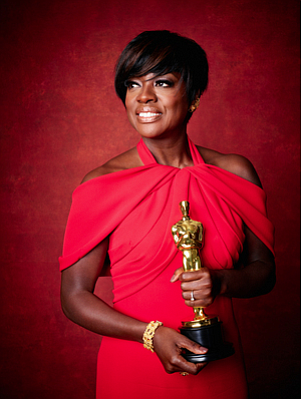 Viola Davis is a winner, and that has nothing to do with her awards or critical accolades. When, as a young child, she decided to follow her dreams and become "good at something," she stepped into her "big girl shoes" and started walking on the road that has led her toward her iconic, legendary status. It's no wonder that Davis is admired by her peers and loved by her fans.
Last Sunday, when Davis walked onstage at the 89th Academy Awards to accept her award for Best Supporting Actress, she also got admittance into one of the most prestigious acting clubs in the world. She became the first Black woman to win an Oscar, an Emmy and a Tony for acting. This win for her work in "Fences" marks her as the 23rd person to complete the so-called "triple crown" of acting. It is a difficult feat to accomplish for anyone, and she is the first Black woman to do so.
Before "Fences," Davis had won an Emmy in 2015 for Outstanding Lead Actress in a Drama Series for her work on "How to Get Away with Murder" and two Tony Awards, first in 2001 for her work in "King Hedley II" and then again in 2010 for her work in the Broadway rendition of "Fences."
Inside the Oscar press room journalists from around the globe exploded with thunderous applause when her name was called.
Here is an excerpt from her interview.
AmNews: You talked about how much your parents have supported you, can you expand on that?
Davis: That they loved me. And my mom always said, "I knew the difference between an accountant and an actor," but she was always OK with it. You know, someone told me years ago, they said, "You have the best parents." I said, "I do?" And they said, "Yeah, because they're OK with just letting you fly. They're not stage parents." And I think that's the biggest gift my parents gave to me is to kind of allow me to live my own life. They weren't living their dreams through me. So, yeah.
AmNews: How did playing Rose challenge you?
Davis: Everything about Rose challenged me. Rose just kind of seemingly just being sometimes at peace with being in the background was hard to play. Rose getting to a place of forgiveness was hard to play. I never hit it when that last scene when I did 114 performances onstage, I didn't understand the last speech when she said, you know, "I gave up my life to make him bigger." I didn't get that. But what Rose has taught me is a lot of what my mom has taught me: That my mom has lived a really hard life, but she still has an abundance of love. And that's the thing, you know. That's the thing about life. You go through it, and you, just terrible things happen to you, beautiful things happen to you, and then you try to just stand up every day, but that's not the point. The point is feeling all those things but still connecting to people, still being able to love people. And that was the best thing about playing Rose because I'm not there yet. Even at 51, sometimes I just
kind of live in my anger.
AmNews: I'm very excited about your production company, JuVee Productions. So tell me what you love about being a Black woman.
Davis: Everything. I love my history. I love the fact I can go back and look at so many different stories of women that have gone before me who seemingly should not have survived, and they did. And I love my skin. I love my voice. I love my history. Sometimes I don't love being the representative all the time, but so be it. That's the way that goes, right? But at 51, I'm sort of loving me.