Grand dame of Queens, Helen Marshall, passes at 87
Herb Boyd | 3/5/2017, 11:37 p.m.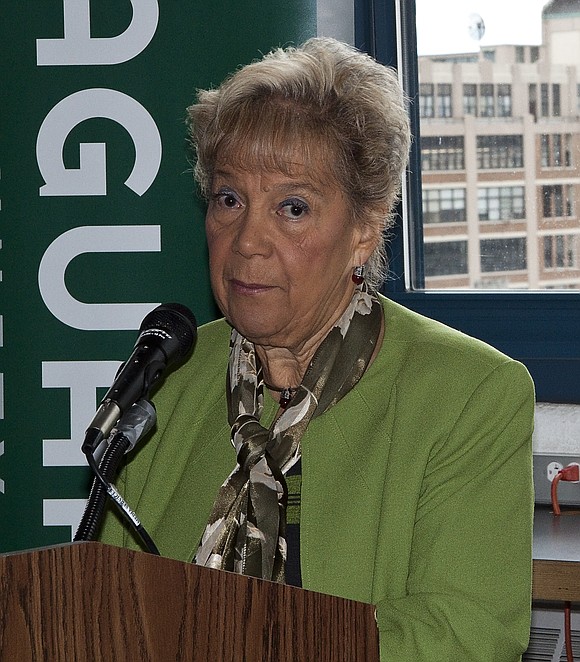 By HERB BOYD
Special to the AmNews
Helen Marshall was as affable and compassionate as she was smart and quick-witted. Journalists could always expect a clever quip and a sharp analysis from her. That consummate, caring civil servant joined the ancestors Saturday in California. She was 87.
Alexandra Rosa, Marshall's former chief of staff confirmed her death.
Of her many accomplishments, Marshall will probably be best remembered as the first African-American woman to be elected as the borough president of Queens. But there was so much more in her impressive resume beyond her three terms at the helm in Queens, including a 10-year stint as a councilwoman and eight years as an assemblywoman.
She was also the first director of the Langston Hughes Library in Queens, where Sekou Molefi Baako (Andrew Jackson) was the librarian for more than 30 years. For her devotion and commitment to the library, Marshall was awarded the statewide Daniel W. Casey Library Advocacy Award in 2005.
Marshall was born in Harlem Sept. 30, 1929. She earned her bachelor's degree in education from Queens College and for eight years she taught classes in early childhood.
Whether in the political arena or on the cultural front, Marshall was a drum major for her constituents in Queens, fighting to ensure that funding was available for the Louis Armstrong Museum, to which she had a special affinity, or creating the Queens General Assembly that was instrumental in promoting cross cultural exchanges among ethnic groups.
Year in and year out, her support was automatic when it came to the various cultural programs at the Langston Hughes Library, something this writer can attest to.
"She was one of my heroes," said Carolyn Carter-Kennedy, who praised Marshall for giving her an interview for her book on Lucille Armstrong. The author recalled that Armstrong gave a fundraiser for Marshall when she ran for the Assembly.
This generosity of spirit was a typical trait of Marshall's, and that was one of the reasons she was such a successful community leader and so beloved.
"Visit Queens and see the world," was one of her mantras, and it also meant an opportunity to see and meet the borough's grand dame.
Among her survivors is her son, Donald Marshall Jr.; a daughter, Agnes Marie Marshall; and a sister, Joan Suger. Her husband, Donald, died in January.
As we go to press, we have not been informed of funeral or memorial services.