Can Trump win over black college campuses?
Juana Summers and Rene Marsh, CNN | 3/7/2017, 10:43 a.m.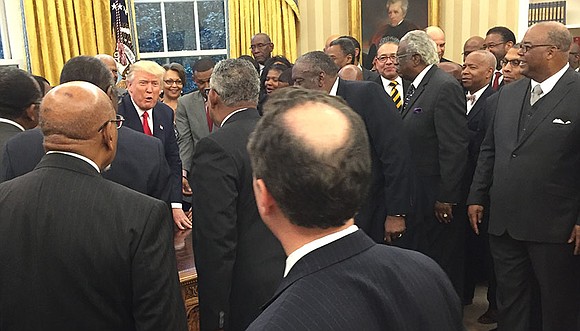 "At first I thought, 'why are they there in the first place?" McGriff said, recalling the photo of Trump surrounded by smiling leaders of historically black schools. Ultimately though, he said that the meeting was an opportunity that HBCUs "couldn't afford to miss."
"I think they went for the best," McGriff said of the meeting with the Trump administration. "Sadly, we didn't get what we were expecting to get -- an increase in funding."
That has been the focus of HBCU leaders, who have implored the Trump administration for more government investment in their schools by way of federal contracts and grants. The executive order that Trump signed in late February, moving the White House initiative supporting black colleges and universities from the Education Department into the White House, did not include monetary support to the chagrin of some of those in the meeting.
"What happened ... was simply a first step, it's just a piece of paper" David Wilson, the president of Morgan State University, said in an interview with CNN. "Step two involves the money. Show me the money. Show me the investments."
Wilson, who met with a group of student leaders before agreeing to go to the White House, described himself as cautiously optimistic that White House senior advisers would be open to their request for dramatically increased funding from the federal government.
Many of the college presidents who attended the meeting are calling for more funding, including a one-time $25 billion infusion to fund infrastructure, technology and financial aid. Thurgood Marshall College Fund President Johnny Taylor said the $25 billion is needed to "get our schools back to the point where they can reasonably be expected to compete with other institutions."
He said he's not talking about being competitive with Ivy League universities.
"I'm talking about just getting on the same level as solid state schools." he told CNN.
Wilson said he saw the meeting as a positive first step toward fixing what he described as historic underfunding of HBCUs and that they would be looking to see if the President's budget places HBCUs as a priority.
Some of the other presidents in attendance echoed his sentiments.
"They seemed genuinely interested in the needs of HBCUs and the kind of support that would help us to better serve the mission of our institutions," said Mickey Burnim, he president of Bowie State University. "I didn't expect that."
But, he added, this is a "dollars issue."
"We received a very warm welcome...but the partnership itself, the strength of it over time, ...will relate directly to the funding and the access to federal dollars that emanates to the Trump administration."
Morehouse College President John Silvanus Wilson Jr., who led the White House HBCU initiative during President Barack Obama's first term, was less optimistic, calling the meetings "a troubling beginning to what must be a positive relationship."
In a letter to Morehouse's student body, Wilson dismissed the executive order signed by Trump as a purely symbolic gesture and said that if Trump truly wanted to "do more for HBCUs than any other president has done before" he should have announced a commitment of funding, as much as $500 million.