Can Trump win over black college campuses?
Juana Summers and Rene Marsh, CNN | 3/7/2017, 10:43 a.m.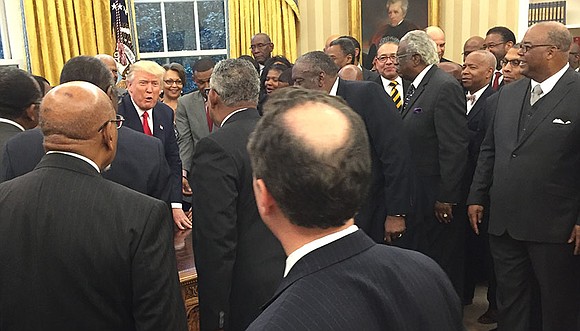 Walter Kimborough, the president of Dillard University in New Orleans took issue with the fact that the trip was billed as a listening session,but said that "very little listening to HBCU presidents" happened.
Discontent boiled over at Howard University last month, where Trump's newly minted education secretary made her inaugural outing in the post, meeting with the university's president, Wayne A.I. Frederick. She drew criticism from some students who believed their campus was being used as a photo op.
Students at Howard protested last week, disrupting the campus convocation and holding signs that declared "Trump is not welcome at Howard." Images of disparaging graffiti on the university's campus that read "Welcome to the Trump Plantation. Overseer: Wayne A.I. Frederick," quickly went viral on social media.
As of Monday, more than 1,000 people had signed an online petition calling for the creation of a student led "oversight committee"at Howard to make recommendations on how funds from the Trump administration should be used.
"We get that they have a job to do, it's a tough job to keep an HBCU open. But there is still an obligation to the values that have sustained us for 150 years" said Howard University senior Allyson Carpenter. Those values, according to Carpenter, who is the president of Howard's student association, include "advocating for the people who have been marginalized and overlooked and not heard."
Students, including Carpenter, have been sharply critical of DeVos's statement last week lauding the schools of "real pioneers when it comes to school choice." Many saw her comments as ignorant of the fact that many historically black institutions were in fact founded because black students were not allowed to attend segregated white schools.
For her part, Carpenter said that DeVos's comments showed her "apparent ignorance"about HBCUs.
"This is just further proof that they don't understand HBCUs, but also that they're using HBCUs for an ulterior motive,"Carpenter said of the Trump administration. "She's talked a lot about school choice, but I've never heard anyone use HBCUs as a vehicle to promote school choice before."
In a letter to the editor in Howard University's student newspaper, Frederick rejected calls by some students to reject any funding from the Trump administration --- Howard is the only HBCU that receives an annual federal appropriation --- saying that it is "appropriate...that the American government uses federal funding to support institutions like Howard."
"That doesn't mean we compromise our values," Frederick wrote. "Rather, it requires us to boldly affirm who we are and what we stand for while committing to real action."
Carpenter said she isn't opposed to her university having a relationship with the Trump administration, but she said that it should be dictated by Howard and not the White House.
"I know we have to work with the federal government, but we should not offer them our partnership or offer to be supportive until they address the legitimate concerns that the people in our community have," she said. "... It should be a relationship on our own terms. And we should not ever deviate from speaking truth to power because we're worried about our appropriation."