Meet the 'Dreamers': Local students prepare for inspiring trip to Disney World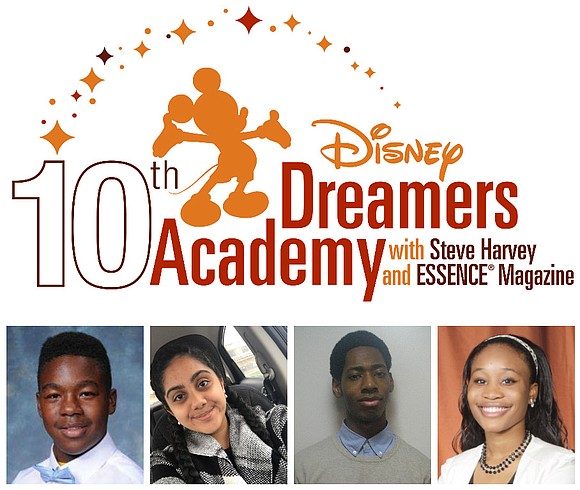 Four local area high school students are preparing for the 10th Annual Disney Dreamers Academy with Steve Harvey and ESSENCE Magazine March 9 through 12 at the Walt Disney World Resort in Florida.
The teens, along with a parent or guardian, received an all-expense-paid trip to Walt Disney World Resort, where they will take part in a once-in-lifetime educational and mentoring program designed to inspire them to dream big, discover a world of possibilities and prepare for their future.
This year's winners from the New York-metro area are Emmanuel Jones from Brooklyn, Demiana Rizkalla from Staten Island, Keon Hanley from the Bronx and Rouwaida Nitiema Newark, N.J.
They are part of a group of 100 students from across the nation attending the four-day event where they'll learn important skills such as communication techniques and networking strategies, build confidence.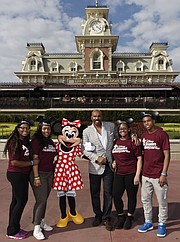 This year's students were selected from nearly thousands applicants who answered a series of essay questions about their personal stories, the people who are most influential in their lives and their dreams for the future.
During Disney Dreamers Academy, the Walt Disney World theme parks become "classrooms," where Dreamers participate in hands-on, full-immersion workshops led by industry experts. Covering a bevy of career paths, ranging from animation to zoology.
Steve Harvey, syndicated radio and television personality, along with ESSENCE and Walt Disney World Resort will host selected Dreamers.
"Giving back is important to me, and especially to our youth – our future leaders, entrepreneurs, and aspiring artists." said Harvey. "We've seen more than 900 committed students come through the program."
Each year, motivational speakers, celebrities, entrepreneurs, executives and Disney Cast Members gather at Disney Dreamers Academy to share their stories and provide insight on charting a positive course and achievement.
"We're excited to welcome back Disney Dreamers Academy with Steve Harvey and ESSENCE for the tenth year," said Tracey D. Powell, Walt Disney Parks and Resorts vice president of deluxe resorts and Disney Dreamers Academy executive champion. "This program is unique for the opportunity it affords teens to be inspired and motivated to accomplish their goals."
ESSENCE Communications President Michelle Ebanks said the students are in store for an experience that will allow them to reach new heights.
"ESSENCE has been honored to help identify the next generation of big dreamers and welcome them to Walt Disney World Resort for a once-in-a-lifetime experience," she said. "This tenth year will be no exception, and we're delighted to further play a role in setting our future leaders on the path to success."
Here are this year's New York-metro area Dreamers:

Born and raised in Harlem, 17-year-old Keon is a senior at Frederick Douglass Academy, where he's taking AP Computer Science and pre-calculus classes. He's also a member of his school's robotics team and a teacher's assistant for 9th-grade Global History. Keon's dream after high school is to attend a 4-year university, where he wants to major in Computer Science with a focus in Game Design and Animation and design games and apps that serve a purpose and bring awareness and insight to issues that plague society.