Close is colossal on Broadway!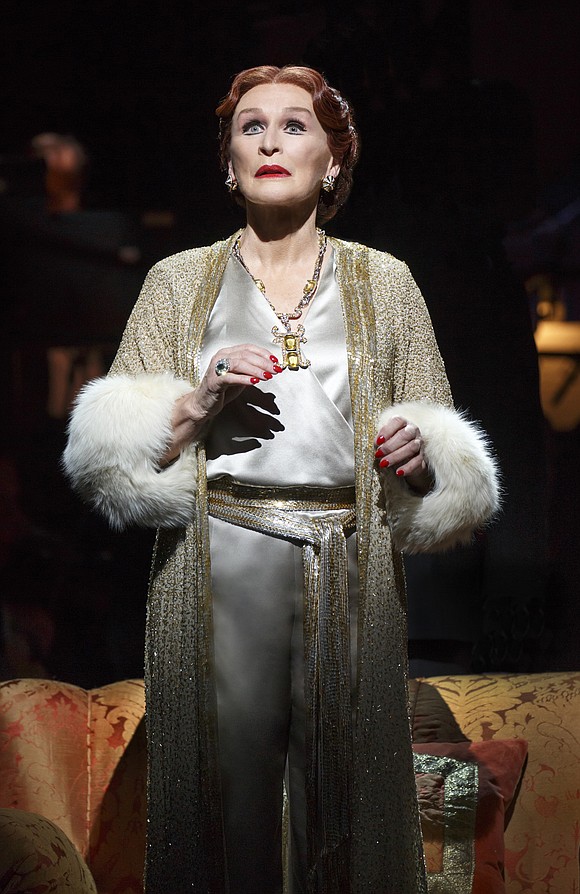 Glenn Close is colossal! Her return to the role of Norma Desmond in Andrew Lloyd Webber's Broadway revival of "Sunset Boulevard" will take your breath away. Close's portrayal is a lesson in perfect performance. She inhabits the character of Norma Desmond, a proud, delusional star of yesteryear trying to relive her past fame by reveling in her old movie roles, connecting with the younger, more vibrant version of herself on screen.
Close plays this role to complete perfection as every facet of her physical and emotional being are possessed by the arrogance, vulnerability, sadness, passion and flair of Norma.
When she sings "With One Look," it is sensational. But when she sings "As If We Never Said Goodbye," it is beyond sensational, with an overwhelming, gripping level of emotion and passion. Close is literally shaking when she cries as the spotlight is shone upon her. Her emotions are so over the top you will find yourself unable to hold your own back. I know that as she cried so did I. The character in that moment was so relatable, being somewhere and having something you have wanted for so long, and believing that you are finally getting it. My God, what a number, what a song! The shouting and clapping was deafening.
Seeing Close in the role reminded me of when I saw her perform it on Broadway before and how fantastic she was then—and still is now. She seems to have been born to play this role.
Her co-stars Michael Xavier, who plays her young love interest Joe Gillis, and Fred Johanson, who plays Max, her "butler," are veterans of this production and have experience in these specific roles.
To watch the cast perform a show that they are obviously comfortable with is a wonderful experience. They seem to have looked deeply at their roles and know what they want to bring out with their characters. In the case of Johanson, Max is totally devoted to Norma and performs "The Greatest Star of All" with tenderness and love.
Xavier plays Joe with a sensitivity towards Norma, and a compassion for her loneliness and dissolution. He is also a sympathetic character as he falls into this unusual relationship and then is confused when he truly finds love. When he sings "Too Much in Love to Care," to Betty, a woman closer to his age, he is dealing with a lot of feelings.
"Sunset Boulevard" is one of those musicals that will always be timeless.
There is a live orchestra onstage that provides the intoxicating music. When it comes to the set, I remember the beautiful two-level split set from the previous Broadway production, and I must admit I miss that. Instead of the detailed set used previously, this set is filled with different staircases that the cast utilizes for different entrances.
This production has spectacular direction by Lonny Price. It is playing at the Palace Theatre on West 47th Street and Broadway. For more information, visit www.sunsetboulevardthemusical.com.