Crossover classics mix in modern styles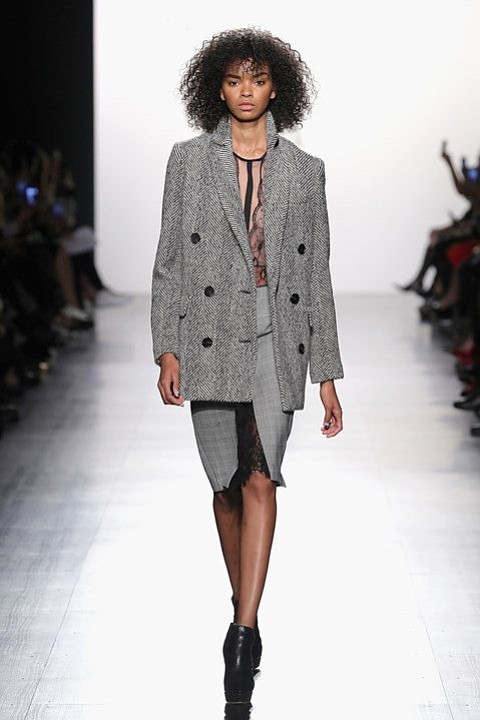 The contrast between menswear and women's lingerie looks was striking as models came down the runway for Taoray Wang's New York Fashion Week debut at Skylight Gallery. Wang Tao, the designer of the brand, carefully staged a meticulously blended form of unexpected yet utterly modern harmony. Her use of the boldest hot pink color is extraordinary. Often shocking, it appears on cuffs, collars or linings throughout the show. Wang was inspired by contemporary Chinese drama that depicts Qing dynasty characters crossing over from ancient times to today's world. It shows women rising from an ancient heritage, dressed in delicate, feminine lace negligees. It's about transcending time, gender and geography.
For hundreds of years, the traditional men's formal suit has been a symbol of power, business and prestige. Women's suits that were once focused on comfort, freedom and sturdiness, as originally designed for riding, have moved into empowering and structured shapes in an attempt to emulate modern masculinity. Her sexy and very feminine lingerie softens all of her looks. In details, there are asymmetrical zippers distracting the geometric shapes of skirts, shoulders and fit on the body.
In this journey, Wang combines opposite elements. There are classic cuts with avant-garde deconstructed styles; masculine modes mixing with feminine forms; East and West touches; and heritage and power plays. The merging of these elements gives birth to distinct, iconic silhouettes that redefine the suit's history. The looks start with—and run parallel to—the Qing dynasty, and they evolve along the way throughout the show.
Wang's collision creates an armored grace that mixes delicate lace with bold lines and fabrics, liberating the suit. Her show offers a liberating sense of freedom for today's dressing. It's just her way of giving you another angle on what is powerful, sexy and has its own unique edge.
Wang launched her namesake brand Taoray Wang (owned by the Shanghai Ribo Fashion Group of which she is a board member) in order to show her collections to the global woman. She understands her customers' appreciation of refined tailoring, sophisticated silhouettes and luxurious fabrics. Her looks exhibit structure with fluidity, effortless creative energy and knowledge of how to balance opposites. Good show!