A 'Forever Stamp' for a forever freedom fighter, Dorothy Height
Herb Boyd | 3/9/2017, midnight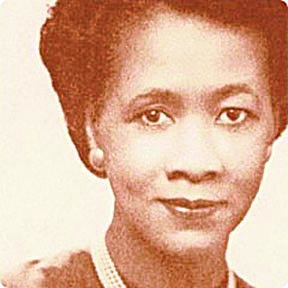 Always concerned about finding ways to strengthen the community, she created a series of "Black Family Reunions" in the mid-1980s, and they continue to encourage and ensure the bonds of unity that are so often broken. From 1947 to 1956, she was the president of the Delta Sigma Theta, one of the nation's most prestigious sororities.
But it was her leadership role at the NCNW that earned her most enduring reputation as she worked diligently to guide and support Black women in their quest for total fulfillment of their skills and opportunities. No matter what social, political or economic issue plagued Black Americans, Height brought the full brunt of her organization and her personal prowess to the situation. Very few national problems, from voting rights to disease epidemics such as AIDS, escaped her attention. One part of her towering legacy was completed in the late 1990s with the establishment of the national NCNW headquarters in Washington, D.C. And no one was more devout in raising the funding for Sears House, where the Dorothy Height Leadership Institute is one of the programs housed there.
Among her many honors and awards, including several honorary doctorates, is the Presidential Medal of Freedom (1994) and the Congressional Gold Medal (2004). There is a classic photograph of her presenting Eleanor Roosevelt with the Mary McLeod Bethune Human Rights award in 1960.
Much of her productive march to fame is recounted in her memoir, "Open Wide the Freedom Gates" (Public Affairs, 2003), and her nephew may be launching a children's book on her life.
When Height was saluted by the USPS, she became the 40th person in the Black Heritage Series, including W.E.B. Du Bois, Dr. King and Harriet Tubman. She is the 15th woman in the series.
"The Postal Service is proud to honor civil rights icon Dorothy Height, an American treasure, whose illustrious career spanned almost a century," said Ronald Stroman, deputy postmaster general and chief government relations officer, who dedicated the stamp.
Dorothy Height was 98 when she died April 20, 2010. Her funeral services at the National Cathedral in Washington, D.C. was attended by a host of notable Americans, including President Obama and First Lady Michelle Obama