Losing myself Part I: A weight loss journey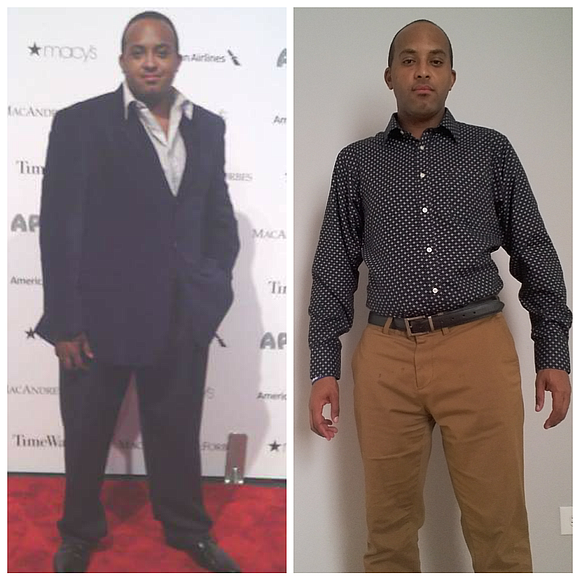 Ever since I was about 12 years old I have struggled with weight. From getting extra and double extra-large shirts to size 40 and 42 waist pants, I always remember saying to myself, "I'm going to lose this weight."
Over the past six and a half months, I have lost a total of 67 pounds and changed my life. Through proper eating, consistent physical activity and motivation, I was able to meet my goal weight of 165 pounds.
Both my father and uncle died of heart-related diseases, so I knew that getting my weight under control was a decision that would affect the rest of my life. I always viewed weight loss as a long, unhappy road of painful hours at the gym and being deprived of my favorite foods. However, I learned that it's all about making minor changes to get results.
I made the decision in August of last year to lose weight. I wanted to lose enough to have a healthy body mass index. I researched all types of diets and just did a simple one: eat less and eat healthier.
Through the use of the USDA's Body Weight Planner (www.supertracker.usda.gov/bwp), I was able to calculate my age, weight, height and how much I wanted to lose. The body planner also figures in your desired physical activity. I was motivated and decided upon 45 minutes of cardio four days a week. The result showed me what my daily intake of calories should be in order to lose weight.
When it came to food, I used Eat This Not That (www.eatthis.com), a wonderful system of eating created by Men's Fitness editorial director and ABC News nutrition and wellness editor, David Zinczenko.
Through the use of ETNT's website and magazine, I was able to enjoy some of the food I already enjoyed and incorporate more fruits, vegetables, protein and fiber into my diet. Portion control was key when I ate. I always used measuring cups and spoons to ensure I wasn't overeating. I gave up soda and other sugary beverages completely, drinking only a gallon of water a day.
Before my weight loss, my typical day included more than one visit to a fast food restaurant, fried foods, constant snacking and foods high in salt and sugar. ETNT allowed me to not only enjoy the foods I love differently, but it also got me on more consistent eating habits.
When it came to exercise, I knew that I had to get serious. I joined a local gym near my home and committed to doing at least 45 minutes of exercise four days a week. I normally spent my evenings eating a large, unhealthy dinner and/or snacking in front of the TV, but now I used that time to get into the gym.
Stepping on the scale every week and seeing results was the motivation that kept me going. I was also realistic when it came to certain situations. Life happens and I didn't beat myself up if I missed one day at the gym or enjoyed a doughnut at an office gathering. I knew what my goals were and understood my limitations.
Now that my journey is nearing its end, my focus is on toning my body and maintaining my healthy weight. However, my weight loss was more than just about changing my body—it changed my entire life. Along the way I learned discipline, self-motivation and determination.