New York City activists march for education
TAMAR DAVIS | 3/9/2017, midnight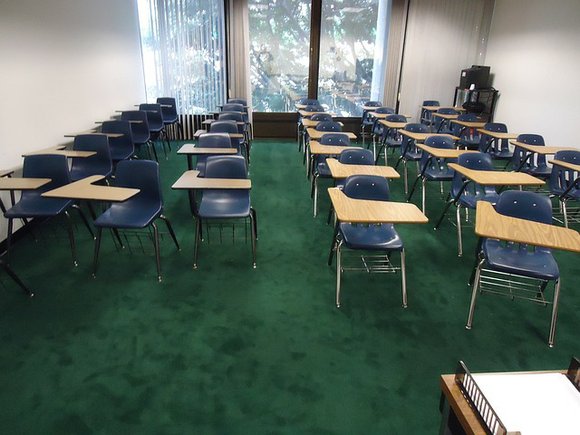 Throughout the past few months, communities across the nation have mobilized, marched and elevated their voices to speak about the issues they care for in the wake of the new administration. Saturday, March 4, parents, educators and students of New York City joined in a wave of activism and raised their concerns about what they see as the longtime government neglect of the public education system, and the new challenges that President Trump and recently confirmed Secretary of Education Betsy DeVos are posing to an already crippled system.
The People's March for Education Justice was a coordinated movement across New York State, with marches occurring simultaneously in Buffalo, Kingston, Rochester, Schenectady, Syracuse, Wyandanch and New York City. Although the march was spearheaded by the Alliance for Quality Education, more than 70 local and statewide organizations endorsed the effort and its cohesive list of demands, which included calls to eliminate the school-to-prison pipeline and proposals to make SUNY and CUNY affordable for all students.
The New York City march began at Central Park West directly across from the Trump International Hotel, a clearly intentional decision given President Trump's rhetoric around the increased privatization of public schools and the recent confirmation of Betsy DeVos as secretary of education. As a fierce advocate of school choice and funneling public funds to private charter schools, DeVos presents a clear threat to what many at the march noted is "one of the most important public institutions in American democracy."
Playing a very vocal role throughout the march was Robert Jackson, former New York City Council member and education activist who co-founded the Campaign for Fiscal Equity in 1993, a nonprofit advocacy organization that sued the State of New York for failing to adequately fund its public schools. However, despite the success of suit in 2006, which included an allocation of $5.5 billion in operating aid, New York public schools have yet to receive nearly $3.9 billion of this aid.
The presence of Jackson, as well as other activists who have been working on behalf of these issues for decades, served as a reminder that despite the current political climate, these struggles over public education are not new. As Zakiyah Ansari, advocacy director at the Alliance for Quality Education, explained, the road to progress is "not a sprint but a marathon" and yet she was confident that "justice will be had before we leave the budget season this year."
The march moved from Columbus Circle, through Times Square, to Bryant Park. This tour of Midtown Manhattan, an area of the city that is most fueled and defined by capitalism and egregious wealth, posed an uneasy juxtaposition against the current, underfunded state of the city's public schools.
Signs with slogans such as "Educate or Subjugate," "Education Justice Is Racial Justice" and "Build Schools, Not Jails!" peppered the crowd, highlighting the myriad issues in the organizers' platform, and yet speaking to what underscores it all—the need to do better by New York school children, particularly students of color from low-income neighborhoods.