Queens College heads to NCAA Tournament determined to succeed
Lois Elfman | 3/9/2017, midnight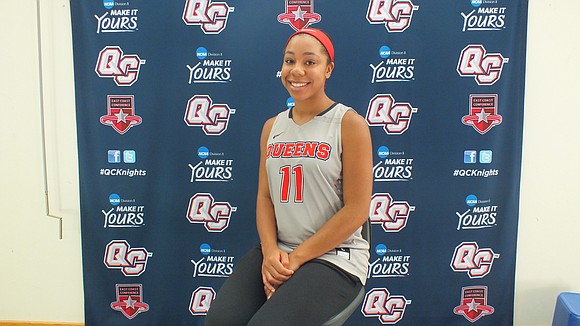 This season has been remarkable for Queens College women's basketball: a national ranking in the top 10, a 16-game winning streak and unprecedented honors for senior guard/forward Madison Rowland, who was named East Coast Conference Player of the Year. Honors also went to Knights coach Elizabeth Naumovski, ECC Coach of the Year, and senior post player MacKenzie Rowland, ECC Defensive Player of the Year.
It's been an extraordinary four years for Madison Rowland, who followed older sister MacKenzie to Queens. Rowland became the career leader in points and steals for both Queens College and the ECC and was named ECC Player of Week nine times this season. Despite this great success, she's disappointed that the Knights' winning streak was stopped in the semi-finals of the ECC Championship.
"My four years, they've been honestly surprising," said Rowland, who had a good high school playing career, but nothing compared to the heights she's achieved in college. "I did not come into college expecting to do everything that I've done. It took a lot of dedication and hard work. It shows that anything is possible …if you work hard enough and are determined."
She was initially resistant to joining her sister in Queens, it has turned out to be a great decision. In fact, her sister used a final year of red shirt eligibility so they could finish together. Younger sister Merrick is also on the team. They are the middle of five basketball playing siblings, all of who got a love of the game from their father.
"You want to win for your teammates," said Rowland. "To have your sisters as teammates makes you that much more hungry for it."
Rowland said this year's team, which also included another red shirt senior, Joya McFarland, shared a vision. The underclassmen seeing the effort the upperclassmen have put in made the younger players want to excel. The Knights lead off play in the Division II NCAA Tournament Friday versus Assumption College.
"It's been a journey since I got here and we've progressed every season," said Rowland, who hopes to play professionally after college. "This year, I want to continue as far as we can go in the tournament. I think we can advance if everyone is determined and takes care of their bodies. I really think we can do it."