Ramarley Graham's mother challenges continued NYPD withholding of information about son's killing
Brelaun Douglas | 3/9/2017, midnight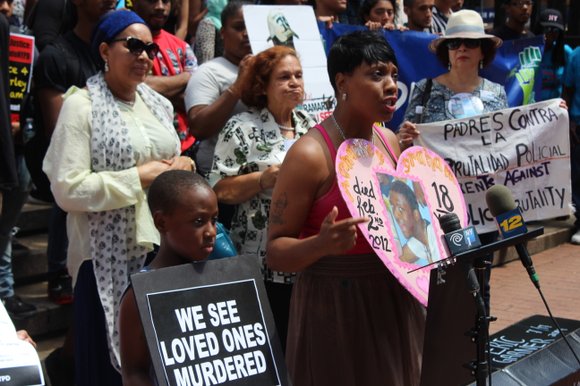 Constance Malcolm, the mother of unarmed teen Ramarley Graham, who was fatally shot by police in 2012, was joined by community supporters to announce the filing of an appeal of the de Blasio administration and NYPD's denial of Freedom of Information Law request for records pertaining to the killing of her son.
The family and their supporters renewed calls for Mayor de Blasio to fire officer Richard Haste, and begin trials of Sergeant Scott Morris and officer John McLoughlin so that they can be fired along with other officers responsible for misconduct in Graham's killing.
Graham's family has sought records pertaining to his killing for years but has not received them.
"After more than five years since my son Ramarley was killed, this can't be considered due process as Mayor de Blasio likes to say," Malcolm said. It delays accountability and that sends a dangerous message to all NYPD officers and New Yorkers." 
De Blasio has claimed that his administration has kept the family informed, but the family disputes the assertions and says that they have not received answers to basic questions.  
"Mayor de Blasio and Commissioner O'Neill's claims of transparency are empty rhetoric," Malcolm said. "They continue to refuse to provide my family with basic and critical information about the killing of my son by the NYPD. Families whose loved ones are killed by the NYPD shouldn't have to file extensive FOIL requests, as we did, to beg for basic information from the city and then have our requests denied. Yet this is the reality under Mayor de Blasio and Commissioner O'Neill. It's shameful and there's no excuse for it."
Graham was fatally shot by police Feb. 2, 2012. Officer Richard Haste and others claimed to have observed Graham buying drugs. They then followed him to his family's Bronx home, where they kicked in the door and found Graham in the bathroom, possibly trying to flush a bag of marijuana. Haste claims that he thought Graham was reaching for a weapon and opened fire, killing him in front of his grandmother and 6-year-old brother. No weapon was found.
The family claims that Haste then threatened to shoot Graham's grandmother, Patricia Hartley. She was then taken to the 47th Precinct, where other officers further abused her. The family has filed a lawsuit.
Graham's family was forced to utilize the FOIL after their repeated requests to de Blasio and the NYPD commissioner went unanswered. Malcolm delivered letters directly to City Hall with demands for full accountability of the officers involved (goo.gl/mzaUXx) and outlining the extent of misconduct, including unlawfully leaking information unauthorized for public release and spreading false information about the incident (goo.gl/AmIBnj). She did not receive a response or information from the de Blasio administration. The family's attorney also sent a letter (bit.ly/2hAuaHY), which received no response.
Civil rights attorney Gideon Oliver filed the original FOIL Sept. 29, 2016, on behalf of Graham's family. It seeks records and reports on the activities of NYPD officers and officials leading up to, during and after Graham's killing.