Six things to do in Istanbul
MEGAN PINCKNEY | 3/9/2017, midnight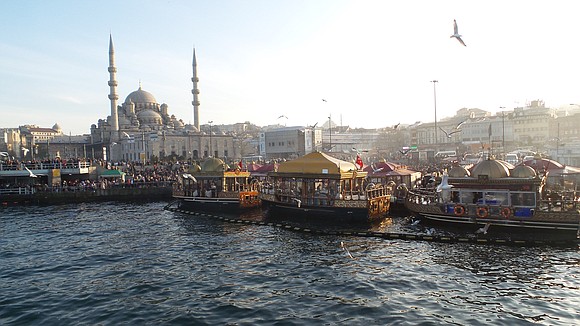 Istanbul is an enchanting and culturally rich city that straddles the boundary between Europe and Asia. Its unique location has made it a significant part of history dating back as far as 660 B.C., a history that seems to unfold as you stroll down its ancient streets. Around every corner there is something rare and exciting to see, and the people are friendly and welcoming. Although the Middle East continues to see turmoil and war, Istanbul does its best to stay clear of the conflict and hostility.
Here are six things you have to experience on your first trip to Istanbul.
The Blue Mosque
There is no way you can go to Istanbul and not visit the iconic Blue Mosque. Nicknamed for the hand painted blue titles that garnish the mosque's interior, it is one of the most recognizable landmarks in the country, and one of the most popular mosques in the world. And thanks to the blue light that illuminates the mosque's five main domes, six minarets and eight secondary domes, it is nearly impossible to miss even at night. Although it is one of the city's most popular tourist attractions, it continues to function as a traditional mosque. Visitors will witness men (because Islamic law says that men and women must be separated at prayer) kneeling on the red carpet after the call to prayer. Being that this mosque is a place or worship, visitors are required to follow a strict dress code. Men cannot wear shorts. Women must wear skirts/shorts that fall below their knees, cover their shoulders and wear a scarf around their head. Admission is free. (http://www.bluemosque.co)
Hagia Sophia Museum
You'll hear the sounds of Hagia Sophia long before you see her beauty as she sings the call to prayer twice per day. Built in 537 A.D., Hagia Sophia has been both a Greek Orthodox Church and mosque before becoming a museum in 1935. The ceilings and walls are adorned with mosaics, marble and paintings, making the building itself a remarkable work of art. On top of its ancient beauty, some of the best views of Istanbul and the Bosphorus River come thanks to Hagia Sophia's location. Admission is 17 Turkish lira.
(http://ayasofyamuzesi.gov.tr/en)
Ayasofya Hurrem Sultan Hamam
Trust me when I say you have not experienced Turkey until you have experienced a Turkish bath. A Turkish bath is ritual of cleansing and relaxing using hot and cold water, along with steam, inside a hamam. However, not all hamams are created equal. One of the greatest is Ayasofya Hurrem Sultan Hamam, located between the Blue Mosque and Hagia Sophia. There, very qualified attendants treat guests to a luxurious scrub and bubble bath surrounded by marble and mosaics. It was honestly the best spa experience I have ever had. Be sure to book a session well in advance as slots fill up fast. There are different treatment options and prices range from 55 to 140 euros.
(http://www.ayasofyahamami.com/?rel=2)
Night markets
To be honest, almost every market in Turkey can be considered a "night market" because most do not close until nearly midnight. However, I found great joy late one night at the market across from the Blue Mosque. Dozens and dozens of local merchants and restaurants attract hundreds of locals and tourists. You could easily wonder down back streets for hours encountering everything from homemade Turkish delights to handmade Oriental rugs. By the time I returned to my hotel, I had enough silk scarves for my entire family, hand painted ceramic bowls that I still use for dinner parties and belly full of kebaps and baklava.