Trump has emboldened ICE agents at all borders to terrorize us all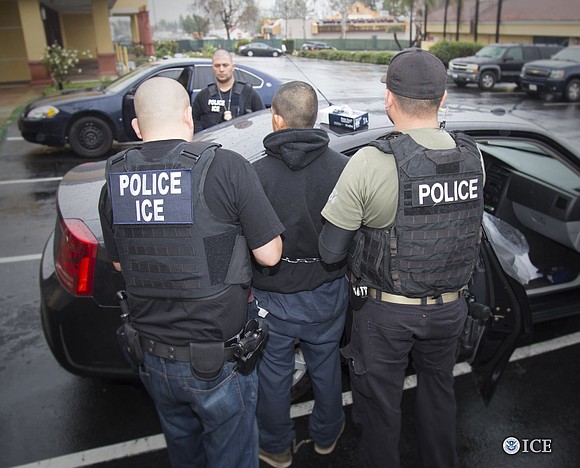 John Dalberg-Acton wrote, "Power tends to corrupt, and absolute power corrupts absolutely."
With executive orders issued last month, and the new ban Monday, March 6, 2017, Donald Trump has given ICE agents a new reckless power to not only round up and deport but also deny entry for visitors with valid visas from countries not on the list of six.
And it is not just "bad hombres" that the ICE agents are going after. Never mind what Trump said during his Feb. 28, 2017, address to the joint session of Congress.
On that Tuesday night he said, "As we speak, we are removing gang members, drug dealers and criminals that threaten our communities and prey on our citizens. Bad ones are going out as I speak tonight and as I have promised."
Wednesday, March 1, ICE agents targeted and arrested 22-year-old Dreamer, Argentina-born Daniela Vargas, after she spoke of her status and her fear at a news conference in Jackson, Miss. The reason for her arrest? She a "visa overstay," meaning she came in on a visitor's visa at some point and simply stayed on. She is not a "bad hombre." Now her attorneys are in the race against time to fight her deportation.
And there are other instances of ICE agents simply profiling and targeting innocent immigrants and not just criminals. In Virginia recently, ICE agents waited outside a church shelter where undocumented immigrants had gone to nab them. In Texas and in Colorado, agents went into courthouses looking for foreigners who had arrived for hearings on other matters.
At Kennedy International Airport in New York, passengers arriving after a five-hour flight from San Francisco were asked to show their identification documents before they were allowed to get off the plane.
And then there is what is happening to international visitors arriving at many U.S. airports. Feb. 26, Celestine Omin, a software engineer visiting the U.S. on a valid visa from Nigeria, had his claim that he was an engineer doubted by a customs agent at JFK. He was taken aside and detained in a room for hours and then tested. He was asked to "write a function to check if a Binary Search Tree is balanced" and was also asked about "an abstract class" and why an engineer might "need it."
Also in February, Australian children's book author Mem Fox was detained by U.S. border agents at Los Angeles airport en route to a conference in Milwaukee earlier this month. Fox said she was questioned over her visa, despite having traveled to America 116 times before without incident.
And Muhammad Ali Jr., the son of legendary boxer Muhammad Ali, an American-born citizen, was detained by immigration officials at Ft. Lauderdale-Hollywood International Airport and repeatedly asked about his religion.
And earlier this month, a Jamaican national was denied entry into the U.S. at the William P Hobby Airport in Houston, even though she had a valid visitor's visa. Veronica Gaubault was sent back to Jamaica after agents inspected her iPhone, iPad and other belongings.
These and more incidents are undoubtedly happening daily at U.S. airports and in ramped-up targeted raids nationally but are unreported because ICE agents have unbridled power to terrorize us all. America, land of the free? I think not!
The writer is CMO at Hard Beat Communications, Inc. which owns the brands NewsAmericasNow, CaribPRWire and InvestCaribbeanNow.