Students take a 'Deep Dive' at Disney Dreamers Academy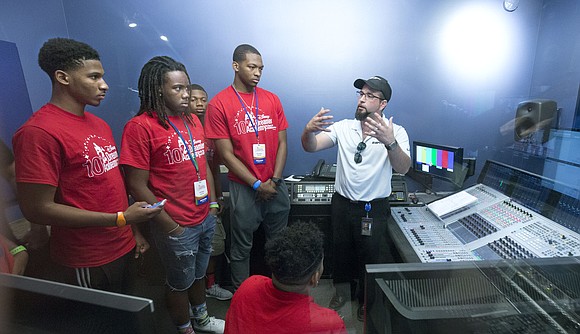 ORLANDO, Fla. - Youth listened to inspirational speakers and got the chance to experience their future careers on second day of the Disney Dreamers Academy with Steve Harvey and ESSENCE magazine on Friday. Along with hearing inspirational speeches, Dreamers attended hands-on workshops in various career fields around Walt Disney World.
The Dreamers attended the "Every Dreamer has a Story" program in the morning where they learned valuable skills about networking and leadership.
Speakers during the day included former Disney Dreamers Academy alumnus and motivational speaker, Princeton Parker, motivational speaker Jonathan Sprinkles and Wynton Harvey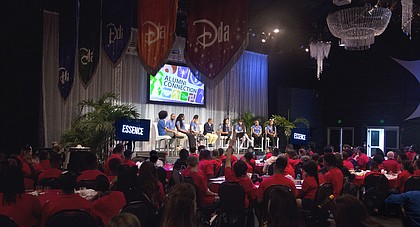 Tracey D. Powell, Vice President of Deluxe Resorts and Disney Dreamers Academy Executive Champion, hosted programming during the day for parents.
In the afternoon the Dreamers participated in "Deep Dives" at Disney University and throughout the Disney Park. Dreamers were given a more personalized experience in small groups based on their career interests.
Dream Keon Hanley from the Bronx said he applied to the Academy after is cousin was accepted to the program two years ago. Hanley has aspirations to be a video game designer.
"I applied last year and wasn't lucky enough to get the opportunity to come but now I'm here and I'm so excited," he said. "The people here are amazing and I'm learning a lot. I never thought I'd have the chance to be here."
The day ended with a networking event where Dreamers were able to network with professionals including guest speakers, Disney executives and partners from The Steve Harvey Morning show and ESSENCE Magazine.
The Dreamers were also split up into male and female groups to participate in sessions about image awareness. where they learned about image awareness.
On Saturday, famed educator Dr. Steve Perry, Brandi and Karli Harvey, Dr. Alex Ellis and author Sonia Jackson Myles are hosting presentations. Christopher Gray and Jaylen Bledsoe will also conduct a discussion.
Dreamers will showcase what they learned and created during their "Deep Dives."